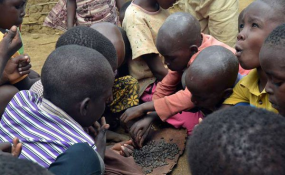 Photo: Kazungu Samuel/Daily Nation
By Kalume Kazungu
Herders from other regions have been directed not to graze their animals in Lamu County in an effort to reduce the rate at which water and pasture are being exhausted.
County Commissioner Joseph Kanyiri said herders from Tana River, Garissa, Wajir and Kilifi counties have a tendency of driving their livestock to Lamu for pasture, despite it being affected by the adverse effects of the ongoing drought.
Mr Kanyiri said if the problem is not contained it will also precipitate conflicts between farmers and the herders over pasture.
"I caution herders from other networks against bringing their livestock to Lamu County.
"We no longer have pasture and water since we are also faced with a difficult situation because of the drought," he said.
At the same time, Lamu County National Drought Management (NDMA) Coordinator Mohamed advised herders to sell part of their stock to minimise losses due to drought.
It is estimated that at least 30,000 households and over 300,000 heads of cattle are currently in dire need of food and water in various parts of the county.