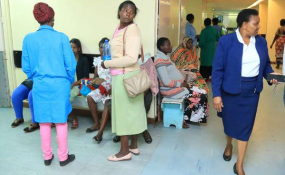 Photo: Jeff Angote/Daily Nation
Expectant women are at risk of developing fistulas because of the prolonged doctors' strike that has forced many to give birth at home, a health expert has warned.
Dr Musimbi Soita, a consultant gynaecologist at Pwani Gyno Centre in Mombasa County said expectant women in the coast region are giving birth at home due to the total shutdown of maternity services in public hospitals.
Obstetric fistula is a hole between the vagina and rectum or bladder that is caused by prolonged obstructed labour, leaving a woman incontinent.
"In the advent of free maternity, almost 90 per cent of expectant mothers have been seeking services in public hospitals.
"However, these women cannot access these services due to the strike. What do they do? They deliver at home," he said.
Dr Soita said Coast General Provincial Hospital, the largest referral hospital in the coast region, used to conduct up to 10 Caesarean sections every day.
This revelation came even as the Ministry of Health blamed the prolonged strike on the negotiating team from the doctors' union, which he claimed "does not have the mandate to make the final decision" regarding the strike.
Cabinet Secretary Cleopa Mailu said as a result, the talks have stalled, much to the detriment of health services in the country.
'CONSTANTLY CHANGED'
Dr Mailu said the union leaders "constantly changed" their decisions.
"I personally feel that the negotiating team does not have full mandate as they say they need to consult with members outside the negotiating table who do not understand the negotiations" Dr Mailu told journalists at Afya House on Tuesday.
In the late evening press conference, Dr Mailu maintained the government had conceded to the demands of the doctors to give them better allowances and promotion to one job group higher than where they currently are.
For their part, the doctors said they walked out on the meeting because the government gave them a new collective bargaining agreement contrary to what they wanted.
The meeting was attended by five representatives from the government's side, led by Dr Mailu, Director of Medical Services Jack Kioko and three other officials.
Meanwhile, governors have vowed to sack doctors who have been on strike for the last 52 days, saying they had run out of patience.
Council of Governors vice chairman John Mruttu on Monday evening insisted that they will not sit idly by as the "doctors engage in an illegal strike".