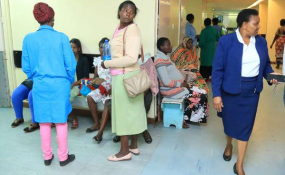 Photo: Jeff Angote/Daily Nation
By Collins Omulo
Governors have vowed to sack doctors who have been on strike for the last 52 days, saying they had run out of patience.
The Council of Governors vice chairman John Mruttu has insisted that they will not sit by as "doctors engage in an illegal strike."
"In employment, absence from work for any period of time is never allowed. In my view, it is the doctors who are sacking themselves. Rules say that if you desert your job for a certain number of days, you are not interested in your job.
"Doctors should be asked if they think they are still under employment instead of county governments being asked if they have released the dismissal letters to the doctors. Which employer allows an employee to be away on strike for more than 50 days?" said the Taita Taveta governor.
Mr Mruttu was speaking during a meeting between the council and a Swedish delegation in Nairobi in an event also attended by the council's chair Peter Munya.
Mr Munya said that they will stick to the law and public service regulations in their negotiations with the striking doctors.
"The law and the public service regulations should be followed. Counties are following these regulations because they are dealing with the situation at the moment," said Munya, the Meru Governor.
Mr Munya said that the council had arrived at a decision in their last meeting that disciplinary actions should be taken against the striking doctors who have absconded their duties since last year.
Kitui governor Julius Malombe, however, offered an olive branch saying that the CoG was willing to negotiate with the doctors to resolve the labour dispute provided that they adhere to the Constitution and the Salaries and Remuneration Commission's directive relating to benefits, salaries and wages.
"Let them be considered for review in a gradual and reasonable manner, taking into account the ability of the economy to sustain these kind of salaries," said Dr Malombe.
Meanwhile, the Council of Governors entered into a partnership with the Swedish Association of Local Authorities and Regions (SALAR) -- an employers' organisation that represents the governmental, professional and employer-related interests of Sweden's 290 municipalities and 20 county councils -- to provide capacity building, training on employer responsibilities and training on town management on how to run modern cities.
"We are exploring the possibilities of expanding the programme to bring in other components like employer responsibilities given that the devolved governments are now responsible for 70 per cent of the public service," said Mr Munya.
On his part, SALAR International Committee President Mr Ilmar Reepalu said: "The association means that all governors are helped in developing their counties, therefore we are working with the government in this multilevel governance."
He added: "The practical job that is being done by governors on county levels is where we aim to make a difference."