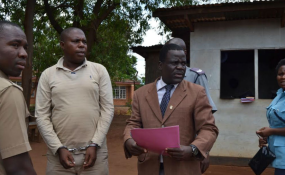 Photo: Watipaso Mzungu/New Times
By John Namalenga Jnr
A Malawian court on Friday established additional charges against Vincent Murekezi, a Rwandan who faces extradition to Rwanda to face charges pertaining to his role in 1994 Genocide against the Tutsi.
Appearing before a Malawian principal magistrate in the capital Lilongwe for an extradition trial, it emerged that the suspect, had fraudulently acquired Malawian citizenship, and had bribed to be naturalised as a Malawian citizen.
Earlier reports had indicated that Murekezi had managed to obtain a Malawian passport in 2003 by paying a hefty USD 5,000.
He has for years operated businesses in the Southern African country despite an outstanding indictment against him.
During the hearing on Friday, it was established that due to the unscrupulous methods he used to obtain his passport and citizenship, Murekezi had managed to dodge clearance from Interpol, a prerequisite for naturalisation.
This, by implication, means that he remains a Rwandan citizen, and not Malawian.
The state, represented by Steven Kayuni had started presenting documents it received from the Rwandan government.
The documents were sent by Rwandan government upon request to facilitate the extradition of Murekezi who was successfully tried and convicted in absentia by a Gacaca court in Huye District.
"Witness statements totaling up to 16 from Rwanda pinning him on the role in the 1994 Genocide were included in the documents received," added Kayuni.
But reacting to the sentiments made by the state, lawyer representing Murekezi, Wapona Kita faulted the procedure being used by the Malawian prosecution.
"The state was supposed to bring witnesses to give evidence on whether Genocide is an extraditable offence. They only proceeded by bringing evidence on acquisition of citizenship, so that was irregular. One other factor is to determine whether Rwanda is a designated country where someone can be extradited to," explained Kita.
In an earlier hearing, prosecutors had said that the absence of an extradition treaty between Rwanda and Malawi should not impede the process, citing other avenues through which this can be done, including the London Scheme for Extradition, that bind member states of the Commonwealth to easily extradite suspected criminals between them.
Both Rwanda and Malawi are members of the commonwealth.
Giving his ruling, Principal Resident Magistrate Patrick Chirwa said that issues raised in the court room were serious hence the need for both parties to get back to the court later with clarity on proper procedure of the hearing.
Murekezi was again found to be in bad books with the Malawian government as he has a pending corruption case to answer involving the country's Anti-Corruption Bureau (ACB).
The case is expected to go back to court on 3 February as Murekezi remains detained at Maula Prison.