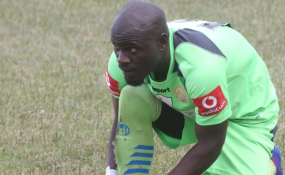 Photo: Daily News
By Meddy Mulisa
Kagera fans and all Tanzanians are in state of shock following the sudden demise of dependable Kagera Sugar custodian David Burhani.
Burhani (24), who signed for Kagera Sugar this ongoing season, died in the early hours today while receiving treatment at the Bugando Medical Centre, in Mwanza City.
He joined Kagera Sugar from Maji Maj FC of Songea. Kagera Sugar spokesman Mohamed Hussein was in grief when announcing the death of their dependable custodian.
"We had Burhani in the just-ended FA Cup tournament.
He was in good health. While on our return journey he started complaining of headache. When we reached Biharamulo town he was temporarily admitted to the Biharamulo District Designated Hospital (DDH) before he was taken to the Kagera Sugar Medical hospital.
On Friday morning his condition worsened and we hired an airplane and he was rushed to Bugando Medical Centre for further medical examination and treatment. Unfortunately at around 2.00 a.m. today morning he passed away.
It is a great loss," he said tears running down his cheeks.