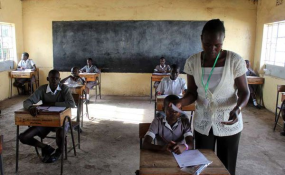 Photo: Tom Otieno/Daily Nation
opinion
By Collins Omulo
Only 19 per cent of pupils in Class Five in the country can spell the word "cough" while only 31 per cent in the same class can spell the word "umbrella", a conference heard Monday.
Speaking during the launch of Kenya National Spelling Bee championship in Nairobi, deputy director in the Education ministry, Mr Fred Haga, said there is need for a shift in the system from an objective to a competency-based curriculum to get value in learning.
The Kenyan curriculum does not give learners the skills and proficiency they should have, he said.
"We are realising that the kind of curriculum we may have had does not quite give us what we want," he said.
In an effort to bridge this gap, said the director, the ministry has embarked on curriculum reforms aimed at ensuring that learners achieve competency at an early age and also focus more on what they are learning and achieving while at school.
"The ministry launched the 'Tusome', an early grade literacy programme...as it has been established that you get better results if you target learners from an early age," he said.
He pointed out that there is more that could be done by different education stakeholders to ensure that school children were able to achieve the competencies set for them to realise by the time they reach certain levels of the education process.
"We just do not want to know that children are going to school, we want to know what they are learning and achieving," said Mr Haga.
Dr John Mugo, Uwezo Kenya country coordinator, said the curriculum is way ahead of children and focuses more on grammar and theory of language rather than oral learning.
"How do we cover the gap between the child and the curriculum because it is either the child is far behind or the curriculum is far ahead? asked Dr Mugo.
He said five per cent of children leaving Standard Eight could not read Class Two work in both Kiswahili and English and that this increased to 17 per cent in Standard Seven, simply because they lacked foundational competence.
Mr Johnson Nzioka, the chairman of the spelling bee, said it is working with public and private primary schools to enrich the learning experience of school children through growth in English vocabulary and public speaking.
Kenya will host the second edition of the African spelling bee championship in July.