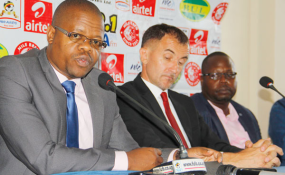 Photo: I. Kezaala /Daily Monitor
By Ismail Dhakaba Kigongo
Kampala — Fufa president Moses Magogo wants Uganda to bid to host the biennial Africa Cup of Nations in eight years' time.
That dream was among the key elements of his address to the media yesterday following Uganda's first Afcon appearance in 39 years.
Magogo who spoke about bridging the gap with Africa's best, spending US$1.1m (about Shs3.9bn) and the end of Cranes' current kit, said hosting should be considered.
"When we hand in our report to government, we want to engage them to host Afcon in 2025. It is within our means," a happy-looking Magogo.
He was quick to add that from the experience from everyone who was in Gabon where Cranes were eliminated at the group stage, infrastructure is what Uganda primarily lacks. To host an Afcon, you need at least four stadiums. "The next step should be sports funding infrastructure from government. We are lacking a lot in infrastructure. We need modern sports law and more funding for national teams and clubs that represent Uganda," he reiterated.
The above statement has constituted most of his recent addresses. "We have done well to market this country and therefore we deserve to be considered," Magogo added.
The federation boss also revealed that government contributed US$0.56m towards the national team's exertion with Fufa forking out US$0.5m that would rather be "used for development" of football.
Initially, Fufa had a budget of US$2m (in excess of Shs7bn) but upon failing to raise the entire sum, Magogo said they went back to working within the means possible.
This meant that Uganda Cranes didn't carry their own food or cooks like Morocco, who were next door neighbours in Oyem.
Magogo also referred to the 1-0 defeats Uganda suffered at the hands of Ghana and Egypt as "losing in honour" and a sign of "bridging the gap" with Africa's best teams.
"However, the gap between us and the big nations is still huge. We are bridging that gap but overtaking them is a different experience," he said. Referring Cranes failing to win games at the 1974 and 1976 editions before reaching the final in 1978, Magogo demanded that Uganda makes "qualification a routine".
Tools to compete
"For Cameroon 2019, we believe we are on course. We may still qualify but not have the tools to complete," he said.
Also, the current Cranes' jersey manufactured by Errea, an Italian company, will be retired next week with the competition for Ugandan to design the next kit being launched.
"We don't have kit deal with Errea, they only gave us a 50% discount. The jersey will be rested next week," Magogo confirmed.
According to their budget, Fufa spent US$100,000 (Shs360m) on kit alone for the Afcon unlike other countries that have manufacturers who pay them to wear their logos.
Responding to issues about the composition of the side, pertaining to older players retiring and William Luwagga Kizito walking away until Micho leaves, Magogo said no one has talked retirement formally.
"There is no formal request from a player to retire, If a player chooses, Fufa will support him and organise a ceremonial match. Retirement is the right of a player."
On Luwagga, Magogo constantly referred to the 'code of conduct' and promised that a report will be made next week and punitive actions taken by the appropriate organs.
360
MILLION SHILLINGS FUFA SPENT ON KIT ALONE UNLIKE OTHER COUNTRIES THAT HAVE KIT SPONSORS