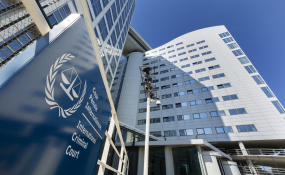 Photo: Premium Times
By Abdullateef Salau
Nigeria has opposed the African Union (AU) resolution calling for mass withdrawal of member states from the International Criminal Court (ICC).
The union backed a "strategy of collective withdrawal" from the ICC, after a divisive debate at its annual heads of state summit in Addis Ababa, Ethiopian capital.
However, the resolution is non-binding, with Nigeria and Senegal opposing withdrawal.
Part of the resolution also said the AU would hold talks with the UN Security Council to push for the ICC to be reformed.
"What they (AU) did was to set up a committee to elaborate a strategy for collective withdrawal. And after, Senegal took the floor, Nigeria took the floor, Cape Verde and some other countries made it clear that they were not going to subscribe to that decision," said Geoffrey Onyeama, the Nigerian Foreign Affairs minister.
The minister said Nigeria and others believed that the court had an important role to play in holding leaders accountable.
He stressed that each country willingly acceded to the 1998 Rome Statute on the setting up of the court.
"So, each country, if they want to withdraw, has the right to do that individually," he noted.
A total of 34 African states are signatories to the Rome Statute, which set up the ICC. Three countries in 2016 publicly declared their intention to withdraw from the court.
The Gambia has also signalled its intention, but the new administration has indicated that it would not go ahead.
South Africa and Burundi have already decided to withdraw, accusing the ICC of undermining their sovereignty and unfairly targeting Africans.
The ICC, which came into force in 2002, aims to prosecute and bring to justice those responsible for the worst crimes - genocide, crimes against humanity, and war crimes. Only Africans have been prosecuted so far.