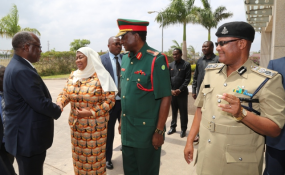 Photo: State House/Daily News
President John Magufuli yesterday returned home after attending 28th African Union Heads of State meeting in Addis Ababa.
Before his departure at Bole International Airport in the Ethiopia's capital city, the President met and held talks with his counterpart of Ghana, Nana Akufo Addo, who promised to enhance cooperation between his country and Tanzania.
He also accepted invitation by Dr Magufuli to visit Tanzania.
President Magufuli also met Comoro Islands President Azali Assoumani who hailed him for his initiatives to bring about economic transformation in the country and he assured him that Comoro will keep on strengthening cooperation between the Isles and Tanzania largely in trade.
The head of state also met and held talks with the management of Ethiopian Airlines in which he assured them that Tanzania will continue cooperating with the largest airline in Africa with routes to Tanzania airports in Dar es Salaam, Zanzibar and Kilimanjaro.