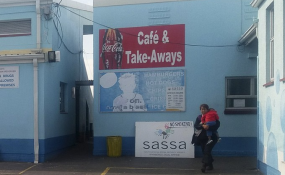 Photo: Tariro Washinyira/GroundUp
The Democratic Alliance will ask President Jacob Zuma to issue a proclamation that Treasury take over the transfer of the Sassa social grants scheme from the current service provider.
It was "completely unacceptable" that the SA Social Security Agency waited until this week to admit it had "failed" in the task, and needed the unlawful contract with Cash Paymaster Services (CPS) extended, the party said on Thursday.
The Constitutional Court in 2014 instructed Sassa to take over the grants scheme from CPS, due to irregular tender processes having been followed in the appointment of the company.
Zuma had the power, according to section 97 of the Constitution, to transfer any legislation entrusted to a member of his Cabinet, to another member, DA MPs Bridget Masango and Lindy Wilson said.
They said the finance minister and his department are best placed to ensure compliance with both the law and fiscal responsibilities.
"This will allow the National Treasury to ensure that the financial implications of both the contract extension, and the appointment of a new service provider, are done in a manner that ensures that the financial impact to the country is minimised."
On Wednesday, Sassa officials told Parliament's social development committee that their only option was to approach the Constitutional Court to ask for a one-year extension.
The DA said Sassa's admission of failure was an indictment on Sassa, the social development department, and on its "absent" Minister Bathabile Dlamini.
"The party believes that Sassa never had any real intention of meeting the 1 April 2017 deadline for taking over of the distribution of social grants. In fact, it is our contention that Sassa wilfully manufactured an emergency that would leave them with no choice but to extend the current contract."
The party is considering legal action against Sassa for failing to comply with the Constitutional Court judgment.
'Reckless, unlawful'
NGO Black Sash was "gravely concerned" with the outcome of Sassa's briefing to Parliament on Wednesday.
"Sassa's inaction has created this crisis. The agency has placed itself in this position by not adhering to the timelines ordered by the ConCourt," the organisation said in a statement on Thursday.
Sassa had placed grant beneficiaries' well-being and survival at risk with continued unauthorised, unlawful and fraudulent deductions from their bank accounts. Beneficiaries had inadequate recourse and were becoming indebted.
The Black Sash said the committee had failed in its oversight role.
"The minister has also been significant by her absence at a hearing on this matter for a second time.
"Ultimately, in the absence of oversight, who will hold Sassa accountable for the creation and delivery of an insourced grant payment system that will finally put an end to unauthorised, unlawful and fraudulent deductions?"
It called on civil society to not rest in seeking answers.
Source: News24