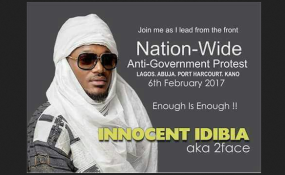 Photo: 2FaceOfficial/Instagram
By Kamardeen Ismail
Tuface Idibia has cancelled the planned nationwide protest against the Federal Government scheduled to hold in Lagos and Abuja on Feb. 6, citing security reasons.
The popular Nigerian artiste who announced the cancellation on Sunday on his Instagram page said it has become clear that the protest may be hijacked by interests that are not align with the ideals of the nation.
He said " Dear Nigerians, after due consultation, it has become clear that the one voice protect scheduled to hold in Lagos and Abuja on Monday the 6th of February is under serious threat of hijack by interests not align with our ideals.
"The point I'm intent on making is not worth the life of any Nigerian. In fact, it is motivated by the need to demand a better deal for the ordinary Nigerian.
"I therefore announce the cancellation of the planned protest".
The popular artiste earlier in the week, called for the support of his fans and colleagues through his social media platforms to join his march against the crippling economic state of the nations.