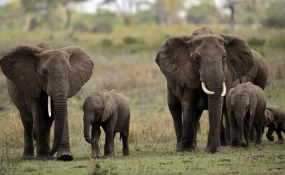 Photo: Daily News
Juba — South Sudan has signed the Elephant Protection Initiative (EPI), CEO of Stop Ivory John Stephenson said on Monday.
The world's youngest nation is the 15th African elephant range State to join the initiative.
"By signing the EPI, South Sudan has shown tremendous commitment and goodwill towards protecting and restoring its elephant herds, for their future generations and for the world to see," said Stephenson in a statement.
"The EPI secretariat looks forward to working closely with the government of South Sudan to develop and implement the EPI strategy as soon as possible," he added.
Launched by Tanzania, Gabon, Botswana, and Ethiopia at the London Conference on Illegal Wildlife Trade in February 2014, the EPI is an African-led, results-oriented partnership initiative to stop the illegal ivory trade and secure a future for elephants across the continent.
Khamis Adieng Ding of South Sudan's National Wildlife Service said joining the initiative is a milestone in the country's young history.
"We are proud to accept the invitation made by the leaders of the five EPI founding member states to join the EPI," Ding said.
Estimates show the recent upsurge in violence has halved elephant population in just two years -- from 5,000 in 2014 to less than 2,500 elephants today.
"Now the government of South Sudan has come together with partners in regional governments and the NGO world, including EPI co-Secretariat Stop Ivory and Conservation International. We will work together to urgently implement the aims of the EPI and reverse this loss," he added.
Before the onset of one of the longest protracted conflicts in Africa, the area was host to an estimated 80,000 elephants.