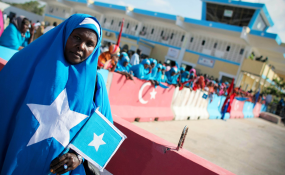 Photo: United Nations
By Hassan Stiila
All the major roads in the capital were closed from 6pm Monday evening after orders from the Mogadishu Mayor Yusuf Jimale. The roads affected are Makkah Al Mukaramah , Tarabunka, madina and Wandanah.
Radio Dalsan went around the capital to assess the situation immediately the 6pm deadline had clocked. Most of the road were closed down.
Residentsnow embrace for Tuesday when all activities in the city will come to a stand still. All schools and colleges within the CBD will be closed down and so will all businesses in downtown Mogadishu.
Radio Dalsan managed to talk to a cross section of Mogadishu residents on the issue.
"This is so far the best way to ensure that the city is secured before and on the day of the elections. It's the best option that the city authorities had although it may have disrupted our normal activities" Abikar Mohamud told Radio Dalsan.
"Whenever they close the roads I am unable to open my shop along Mukaramah. It costs me when I am unable to open my business. But what else can we do" Hamse Idd said.
Militant group Alshabaab has managed to execute suicide bombings along some of these major roads and have threatened to disrupt the coming elections.
Most recent was the attack on Hotel Dayah along Makkah Mukaramah where up to 30 people mainly civilians were killed.