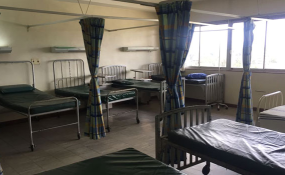 Photo: Capital FM
analysis
By Wilmot James
There is no question that if we had credible healthcare facility surveillance the alarm to intervene would have gone off a long time ago and a chain of command would have reacted to prevent the deaths of former Life Esidimeni inhabitants who had been moved to unsuitable facilities elsewhere.
The death of 94 mentally ill South Africans in the Gauteng Province is a national tragedy. The families of every one of those who died put their faith in the state but they were betrayed and morally let down. The nation's hearts must go out to them in their grief-stricken efforts to find solace and dignity in an unforgettable episode of disgraceful criminal neglect.
Some of the details of the horror of mistreatment and neglect of the mental patients by the non-governmental organisations (NGOs) so woefully ill-equipped to deal with seriously ill human beings reminded me of the Nazi and former East European socialist attitudes to the mentally infirm. They were seen as less than human, "cargo" in the words of the Treblinka concentration camp commandant, Joseph Stagl, as recorded by the great biographer Gitta Serenyi in her book Into that Darkness (1974).
Prompted by the DA's Jack Bloom, Health Ombudsman...