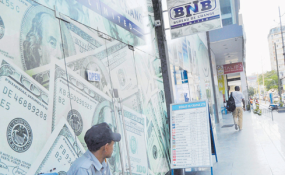 Photo: Omar Fungu/The Citizen
By Sylivester Domasa
Dodoma — The government has put local bureaux de change under tight surveillance in an attempt to ensure the shops are not turned into dens for money laundering.
Deputy Finance and Planning Minister Dr Ashatu Kijaji announced the measure here yesterday; saying the Bank of Tanzania (BoT) and the Tanzania Revenue Authority (TRA) have been tasked to monitor transactions carried out in the forex shops.
"There are no threats to the economy," the deputy minister said. "TRA and the Central Bank are monitoring ongoing transactions and taking steps to ensure the money injected is safe." Despite the deputy minister acknowledging the wave of money laundering in shillings, US dollars and other currencies, she said legal and policy framework were set by the government and international communities to check against the conduct.
"There are several ways used in money laundering, including injecting the money into financial institutions or investing it in land and housing. The culprits get the dirt money from illegal trades such as drug trafficking, corruption, poaching, robbery and tax evasion," she pointed out.
She went on to explain that there are rules, which guide financial institutions to prevent money laundering. "The Central Bank is closely monitoring banking institution to ensure that all rules and regulations are implemented," she said.
The deputy minister was responding to a question asked by Igunga MP, Mr Dalaly Kafumu (CCM). The MP called on the government to impose a new mechanism to control arbitrary use of dollars as part of fighting money laundering and safeguarding the economy.
Tanzania's economy has been growing at an average of 7 per cent in the last ten years, beating sub-Saharan African countries whose economies was growing at 5.4 per cent. However, Dr Kijaji maintained that the free foreign currency market was a government strategy to curb its shortage.
As of December 2015, Tanzania had foreign currency reserves amounting to 4.093 billion US dollars. There were 2.933 billion US dollars deposit by Tanzanians and asset worth 1.021 billion US dollars.