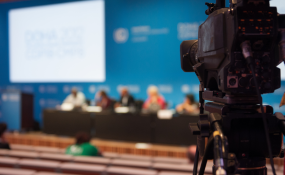 Photo: Penny Yi Wang/COP18
document
Parliament, Wednesday 8 February 2017 - Secretary to Parliament Mr Gengezi Mgidlana met the Executive Committee of the Parliament Gallery Association (PGA) and the South African National Editors Forum (SANEF), to iron out misunderstandings in the period leading up to the State of the Nation Address on Thursday 9 February.
Mr Mgidlana convened the urgent meeting with the leadership of the PGA and SANEF at 18:00 yesterday, following a series of articles and a media briefing where journalists expressed concerns about allegations of security arrangements that wouldinhibit their work of reporting on the State of the Nation Address. These allegations had been rejected by the Parliament of South Africa at various points which included a media conference of the Secretary to Parliament last week, a rebuttal statement and a media conference held on 7 February. Despite the reassurances by the administrative and political leadership of Parliament, media expressed apprehensions about a briefing allegedly done by Parliamentary Protection Services.
The meeting agreed on the following issues as part of a way-forward:
- In-deed nothing has changed in the regulations and protocols governing the operations of the media accredited to cover the State of the Nation Address;
- Parliament will provide in writing a detailed outline of media rights and responsibilities to guide how scores of the accredited media will perform and be assisted by Parliamentary Communication Services;
- A liaison team of the PGA and PCS was established to provide a hotline between the media and Parliament, providing a first point of call to help nip any potential real or imaginary challenge in the bud.
The first meeting of the joint liaison team of the PGA and PCS will be at 09:00 on the 8 February 2017 in Cape Town. Parliament is looking forward to a successful 2017 SONA with the participation of all its stakeholders including the media.