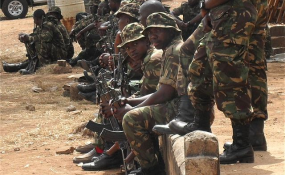 Photo: Daily News
The Tanzania People's Defence Forces (TPDF) yesterday clarified that military officers appointed to various positions in government are allowed to put on their uniforms while performing special duties.
The clarification follows a recent debate on whether regulations governing the country's military forces allow such officers to wear their uniforms while they have been assigned tasks outside the army. A statement issued by TPDF in Dar es Salaam yesterday called upon the public to continue collaborating with their leaders at their respective areas.
Last week, Ukonga Member of Parliament Mwita Waitara (Chadema) said in the National Assembly that Permanent Secretaries, regional and district commissioners were breaching the country's constitution by wearing military uniforms while executing their duties.
He claimed that since he was sworn in on November 5, 2015, President John Magufuli has been appointing TPDF officers to various positions, an act that has been criticised by opposition MPs.
Waitara sought guidance from the Speaker's chair giving an example of the Permanent Secretary in the Ministry of Natural Resources and Tourism, retired Major General Gaudence Milanzi, alleging that he has been executing his duties while on military uniforms which is contrary to section 147 of the constitution.
He said it has been common for presidential appointees to put on the uniforms such as regional and district commissioners who are politicians from the ruling Chama Cha Mapinduzi because they are members of the party's political committees.