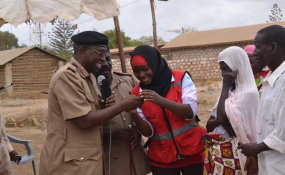 Photo: Kazungu Samuel/Daily Nation
By Kazungu Samuel
More than 1,000 people in Kaloleni, Kilifi County will each receive Sh3,000 from the Kenya Red Cross in a cash transfer programme targeting needy residents especially those affected by the current drought.
The first group to benefit received the cash Thursday at Gotani trading centre.
The programme was rolled out in Ganze Sub-County two months ago where 1,000 households benefited.
The programme, which saw 1,300 locals, among them the elderly and the needy, is being implemented through the British Red Cross with Sh200 million donated by the European Union.
Among those who attended the Thursday launch were Kilifi County Commissioner Joseph Keter, Kaloleni Deputy County Commissioner Fred Ndunga, Kayafungo Ward representative Alphonce Mwayaa, chiefs and their assistants.
SH3,000 FOR FOUR MONTHS
Addressing the residents, Kenya Red Cross Kilifi County manager Hakima Masoud said under the programme, each of the beneficiaries will receive Sh3,060 for the next four months, adding that it is meant to assist families which have been adversely affected by drought and famine in the region.
"We are here to launch the cash transfer programme for needy and vulnerable in Kaloleni. We are going to assist 1,300 people for the next four months, whereby the targeted people will be receiving the [money] through their mobile phones," Ms Masoud said.
Ms Masoud has added that her organisation was able to identify the needy areas both in Ganze and Kaloleni with the help of the National Drought Management Authority (NDMA).
"In partnership with the NDMA who direct sponsors to the needy and targeted areas, we identified Kaloleni Sub County as one of the most affected by hunger.
"Although we are the implementers, the Kaloleni sponsorship comes from the British Red Cross who have been assigned funds [for] this area," she said.
Solomon Mulu from the British Red Cross urged the community in Kaloleni to use the money to improve their lives.
"The money you get may sound too little but with proper planning, you can start even a small business and improve you lives," he said.
Mr Keter said the government is also undertaking a similar programme where 19,000 households will each receive Sh2,000 every month.