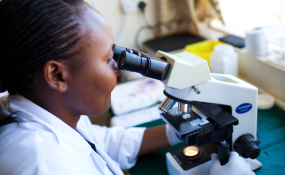 Photo: Eric Becker/PATH
opinion
By Wanjiru Kamau-Rutenberg
I'm hugely excited to be part of the second annual International Day of Women and Girls in Science. This day both enables us to celebrate the contributions that women and girls make in the realm of science, and inspires us to redouble our efforts to make agricultural science [as well as other critically important fields in science, technology, engineering, and math (STEM)] more welcoming to women and girls.
While we take this day to celebrate, I'm at the same time reflecting on the work that AWARD does every day to elevate the status of African women agricultural researchers. The pipeline for moving African women scientists into leadership positions in agricultural research and development is a leaky one. The key to fixing those leaks is to strongly encourage and support the next generation of women and girls to take a keen interest in science, and to help tackle the big challenges that constrain Africa's prosperity. The AWARD Fellowships empower leading African women scientists, and we push our alumnae to pay this investment forward to the young women and girls in their home communities.
Our work is amplified by this year's theme, "Gender, Science and Development: The Impact of Media". AWARD is committed to seeing more women take their rightful places across the agricultural sector – in research labs, academia, agribusiness, and important policy debates and decision-making – and a big factor in our success is to ensure that women and girls are able to see themselves in our fellows and mentors. We make sure that our work and the importance of closing the gender gap in African agricultural research and development is done not only through role-modelling events, but also through such initiatives as AWARD TV, which gives our fellows and mentors a platform from which they can share their professional and personal journey of growth.
This year's International Day of Women and Girls in Science theme is even being amplified by Hollywood. Particularly important is the film Hidden Figures, which tells the story of three African-American women who made major contributions to the United States' space program in the 1960s. While this captivating film about women's hidden contributions to STEM provides well-deserved and long overdue recognition of its principal characters, there are countless more women, especially African women scientists, whose work still goes unnoticed. With the help of the media, including new social media platforms, we can make sure that women's scientific work is recognized and celebrated.
Join me, as we celebrate the International Day of Women and Girls in Science. For our part, we are pleased to present photos from our fellows and mentors who share the names of the women who have impacted their careers in science. We also invite you to join the conversation through our Twitter Chat on Friday, February 10th, addressing the role the media can play in celebrating women and girls in science.
This is a day that must be celebrated, and celebrated loudly, not just by women, but by all, because it also gives us a moment to pause, reflect, and react on how best to catalyse the under-appreciated knowledge and huge potential of Africa's women and girls.
Dr. Wanjiru Kamau-Rutenberg is the Director of African Women in Agricultural Research and Development