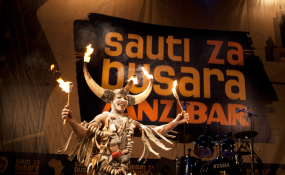 Photo: Sauti Za Busara.
By Iman Mani
Zanzibar — Veteran Highlife vocalist and songwriter Pat Thomas flew into Zanzibar from Ghana, with the Kwashibu Area Band on Saturday and gave a thrilling performance before boarding the flight back to Ghana the following day.
They have an appointment in Ghana today, which couldn't be missed, Thomas said. All-the-same, they couldn't miss the opportunity to perform at the Sauti za Busara on Saturday night.
In fact, it was this band that managed to follow a number of exhilarating performances, from such as Chibite Zawose Family from here in Bagamoyo- Coast Region, Ha_rt the Band from Kenya, Isau Meneses from Mozambique and Kyekyeku, who is also from Ghana.
The well-travelled veteran Thomas, who has worked with bands of Ebo Taylor, told the 'Daily News' that it was not only his first time in Zanzibar but in East Africa. Therefore, he was not too pleased leaving in such a hurry.
However, this quick departure has given him another reason for coming back here, sooner rather than later. "I came in late, so I had to sleep the whole day in preparation for the show. I want my audience to enjoy our music. I want them to feel it the way I feel it.
We enjoy the music that we're playing, so we have to relate to the audience," he admitted. He praised the audience for being very encouraging and "moving him" towards finding even more energy for the performance.
He also brushed-off the band's interactive tightness on stage as the result of them being professionals take the professional approach to their music, so make sure they rehearse to get their art to the highest level they can.
Thomas, who has been playing music for well over four decades, hastened to add that this is not to say that they only see their music, as a business, for the contrary is the case. All band members, he explained, make sure to enjoy what they're doing whenever they're playing music. Having an "inspiring crowd" as he referred to Saturday's audience, just makes it all more enjoyable, he says.
Just to give a practical example of what he meant, he mentioned that its three years since this current band line-up has been together, yet they have been rehearsing every day, for the last six months, for Saturday night's performance.
When asked to explain where the Kwashibu area is, he said it's a suburbs in Accra, the capital of Ghana, where most of the band members live.