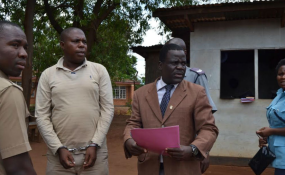 Photo: Watipaso Mzungu/New Times
A Malawian court on Tuesday ruled that it could not sanction the extradition of a Genocide suspect living in the country, unless the two countries work out an extradition treaty to guide the transfer of suspects.
In the ruling by the Malawian Magistrate Court in the capital Lilongwe, the judge said that despite the prima facie case against Genocide suspect Vincent Murekezi, he could not be transferred for lack of legal framework.
Magistrate Patrick Chirwa said extradition at this moment can only happen if Malawian Minister of Home Affairs makes an agreement with his Rwandan counterpart on making the latter a designated country.
Murekezi, a notorious Genocide suspect well known in his native Tumba in the current Huye District, was arrested in Malawi in December last year following an indictment sent by Rwandan prosecution.
"The court understands the claims by the state that Genocide is an extraditable offence in Malawi and agrees with this. But extradition of Murekezi cannot happen because as presented by the defence, Rwanda is not on the list of countries for extradition," the judge ruled.
Court had earlier ruled that the state submit evidence to back claims for the need of extraditing Murekezi to Rwanda to serve a sentence for his involvement in killing people on a large scale.
On the other hand, Murekezi's lawyers were requested to provide evidence to the contrary.
Prosecutors filed the different documents submitted by Rwanda pinning Murekezi on the Genocide against the Tutsi.
In an interview after the ruling, Senior State Advocate, Steven Kayuni said they will seek proper legal on how to bring the case back to court for another bid for extradition.
"We will go through the ruling and consult on the way forward. We intend to let the minister to do the needful on listing Rwanda as a designated country (for extradition)," said Kayuni.
Kayuni added that the case can go back to court since one favour has gone to the state on recognizing genocide as a case worth extradition in Malawi.
To remain in custody
Despite the ruling, the judge decided to keep Murekezi in custody, owing to an outstanding corruption case against him.
Besides genocide crimes, Murekezi, a businessman, was already a wanted man by Malawian authorities owing to a corruption case that dates back in 2008 in which he had jumped bail.
Rwanda reacts
Speaking to The New Times, Justice Minister Johnston Busingye said that the Government of Rwanda would do everything possible to ensure the suspect is extradited to Rwanda to answer for the Genocide charges he stands accused.
"It is true we don't have an extradition treaty with Malawi but the important thing is that Malawi didn't say that Murekezi is innocent.
"We are going to comply with what they (Malawi government) ask for and do everything possible to bring him here, we can't sign the treaty in one month as it also involves Malawi but we will do whatever possible in our means," Busingye added.
Who is Murekezi?
A wealthy businessman, Murekezi is has been living in Malawi for over a decade and according to reports, he paid a bribe to the tune of $5,000 to acquire a Malawian citizenship in 2003.
His arrest in December was preceded by an uproar from members of the civil society in the southern African country, where it was alleged that Murekezi was peddling influence to evade arrest.
Previous reports had pinned him on forging Rwandan documents that he presented during his naturalization process in Malawi.
He is among the at least dozen indicted Genocide fugitives said to be living in Malawi.