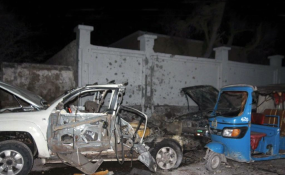 Photo: Photo ONU Somalie (archives)
Mogadishu — Three people were killed and four others were injured on Thursday when mortar shells landed at a residential area bordering the presidential villa in Mogadishu.
"We can confirm that three people have been killed, among them two children. Four others were injured when mortar shells landed at Warta Nabadda near Villa Somalia," police officer Abdullahi Ahmed told Xinhua.
Witnesses told Xinhua there were huge blasts in the village which also destroyed some housing structures.
"There were at least five mortar shells which landed at our village. I heard three people were killed," Muktar Nor said.
The latest attack comes as Villa Somalia was hosting a handover ceremony for the new president to assume the new residence, paving way for the inauguration of the new president on Feb 22.
Already, the government has announced it will suspend temporarily all domestic and international flights to Mogadishu airport because of the inauguration on Feb 22.
No group has yet claimed responsibility for the latest attack which comes after the new president pledged during his campaigns to eradicate criminal networks and terror groups in Somalia.
Xinhua