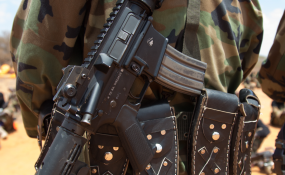 Photo: Hamza Mohamed
Mohamed Omar Hagafey, who served as a spokesman for former Himan and Heeb administration was killed in a drive-by-shooting in Mogadishu on Saturday morning.
Galmudug state spokesman Abdullahi Hashi has confirmed to Radio Shabelle the murder of the former spokesman Mohamed Omar Hagafey which occurred at Digfeer hospital.
He said the official's vehicle was sprayed with bullets by unknown gunmen driving in a speeding car near the Turkish-run Digfeer hospital in Hodon district.
Similarly, a senior NISA officer named Hassan Dheere was killed in another drive-by shooting on Saturday at El Gabta area in Mogadishu. The attack has left a bodyguard dead.
No group has yet claimed responsibility for the attacks in Mogadishu, which come two days after the new President Mohamed Abdullahi Farmajo took power from Hassan Sheikh.