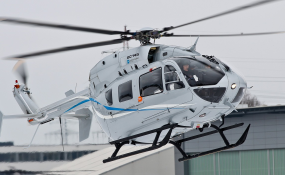 Photo: Airbus
By Stephen Otage
Civil society Organizations critical on accountability and corruption issues, have criticised Parliament over plans to purchase a helicopter for Speaker Rebecca Kadaga.
Parliament recently allocated shs19.9b for buying a helicopter for the Speaker, in its budget for the next financial year. The nine-sitter EC 145, that the law makers intend to buy, is to ease the speaker's travel across the country to monitor government programmes.
However, the huge cost of the chopper has attracted widespread condemnation. CSOs argue that it is not a priority need for the country.
Addressing a joint press conference at the Uganda Debt network Offices in Ntinda yesterday, representatives of the Civil Society Budget advocacy group (CSBAG) and the Anti-Corruption coalition of Uganda (ACCU) said the money should instead be directed to pressing sectors of the economy.
"We have majority of the voters of members of parliament suffering with hunger in the villages, this money could have been used to purchase them some irrigation systems to avert future recurrence of famine," Cissy Kagaba the executive director ACCU said.
"Spending these monies on buying choppers right now, just show that we have a group of selfish leaders. It is very ironical that we haven't heard any member of parliament come out and speak about it."
"How big is Uganda to need a chopper? Besides Police has a chopper and these are the same government officials can't they share that chopper when they want to travel. How big is our GDP compared to the rest of the region, are our neighboring speakers using choppers," added Imelda Namagga the programs officer Uganda Debt Network.
willJulius Mukunda the coordinator Civil Society Advocacy group said it is illogical for Parliament to spend that money on a chopper yet several retired civil servants who served the country diligently are languishing without pension to support them in retirement.
"The move to procure a helicopter for the speaker and deputy must be backed with adequate proof that the motor vehicles procured for the two officials have proved inefficient," he said.
Last month, there was a public outcry after the media carrying reports of parliament budgeting for Shs.19.9billion towards the procurement of a helicopter for the Speaker of Parliament and her deputy to help them traverse different parts of the country to carry out their official duties.
However when asked what will happen if parliament goes ahead to implement the plan like they did with exempting their allowances from taxation. Ms. Kagaba said the case is already in court and they would contemplate taking a similar action.