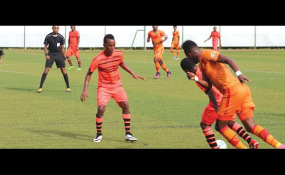 Photo: CAF
The Ethiopian Premier League champions Saint George defeat Cote D'Or 3-0 in the second leg of the African Champions League in Hawasa on Monday. The match was played on Sunday but interrupted after the 60 minutes due to heavy rain. By then the score was 3-0 in favour of St George.
As per the regulation of CAF, the continent's football governing body, the remaining 30 minutes was played on Monday morning. The score sheet was not changed when the final whistle was heard.
In the first leg held in Seychelles Ethiopia's representative in this year's CAF Champions League St George , beat Cote d'voire 2-0.
Striker Salhadin Said scored a goal in each half to give his team a cushion for the return leg match.
In the return leg that took place in Hawassa St. George had a 3-0 win. With an aggregate 5-0 win the home side advanced in the next round.
The format for the 2017 Total CAF Champions League has been modified and the tournament now has 16 participants in the group stages.
The change was announced by the Confederation of African Football (CAF) at its 38th Ordinary General Assembly last year.