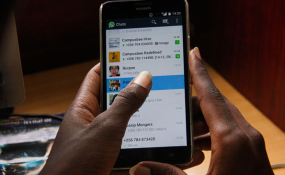 Photo: Rachel Mabala /Daily Monitor
A court has stopped the government's plan to tap into private phone conversations which was set to begin on Tuesday.
High Court Judge John Mativo on Monday, granted the orders following an application filed by activist Okiya Omtatah. Mr Omtatah had claimed that the directive issued by the Communications Authority of Kenya (CA) will infringe on privacy and was a violation of the constitution.
Justice Mativo directed that the temporary orders stopping the implementation of the directive will remain in force until the case is concluded. He also certified the application as urgent and directed that it be heard on March 6.
The agency has already awarded Broadband Communications Networks Ltd, the tender to deliver, install, test, commission and maintain a device through which the project will be implemented.
Mr Omtatah argued in his application that, "CA's arbitrary decision to spy on Kenyans through Broadband Communications Networks, violates both the law and Constitution".
ILLEGAL DEVICES
CA director-general Francis Wangusi, last week, said a proliferation of illegal devices demanded the speedy implementation of the system.
But, legal experts have criticised the agency citing other options which can be used without violating the law.
Former Law Society of Kenya CEO Apollo Mboya said the agency had not demonstrated that it had exploited other possible means to achieve its intended goal of controlling counterfeit phones. He said Kenya Bureau of Standards could stem flow of counterfeit goods.
"The government can tighten security at the borders where these illegal imports are coming through, and also ensure enactment of the data protection laws," said Mr Mboya.
He said there was on data protection system put in place. "It (data) can fall into the wrong hands and can be misused by people who have harvested it," said Mr Mboya adding that the threat of impersonation could not be underestimated.