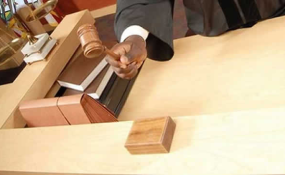 Photo: The Herald
By Nelson Wesonga
The Kenya High Court in Nairobi has quashed a decision by the Kenya School of Law (KSL) barring Ugandan, South Sudanese, Tanzanian, Rwandan and Burundian students from enrolling for KSL's Advocates Training Programme (ATP).
One needs to go through the ATP to practise law in Kenya.
Justice John M. Mativo said KSL's decision violates Article 27 of Kenya's Constitution 2010.
"...the decision [by KSL] offends the petitioners' constitutionally guaranteed rights..." Justice Mativo ruled on Monday, February 20.
The judgment - assuming Kenya's Council of Legal Education (CLE) and KSL do not appeal - settles the matter of admitting non-Kenyans, who possess undergraduate law qualifications, into KSL.
KSL had in November 2016 barred Ugandan and South Sudanese students from the ATP, arguing they were ineligible.
Some of the students had undertaken their undergraduate law studies in either universities in Kenya or Uganda.
KSL's decision followed a directive by CLE. The CLE, drawing from Kenya's Advocates Act, had held that for non-Kenyan East Africans to be admitted by KSL for the ATP, they must have been admitted advocates in their respective countries of origin.
Section 12 (a) of the Act says 'No person shall be admitted as an advocate unless he is a citizen of Kenya, Uganda and Tanzania and (b) he is duly qualified according to Section 13 of the Act.
Section 13 (1) states: 'A person shall be duly qualified if (a) having passed the relevant examinations of any recognised university in Kenya, he holds, or has become eligible for the conferment of, a degree in law of that university'.
The judge notes that KSL has in the past been admitting and training East Africans. Indeed it has.
However in 2016, it started referring some of them to Riara University, a new, private tertiary institution, "for remedial classes" to reportedly meet the threshold prescribed under Part Two of the Second Schedule of Kenya's Legal Education Act.
Though Ugandans went for the remedial classes, CLE later said non-Kenyans are ineligible for admission to Kenya's Advocates Training Programne.
At some point last year, KSL, acting on directives from CLE, stopped up to 75 Ugandan students from sitting bar examinations, prompting the students to petition the Milimani High Court. The court ruled that they should be allowed to sit their examinations.
Justice Mativo, however, said on Monday, "A decision which violates the Constitution [of Kenya, 2010] is void."
Article 27 (1) of Kenya's Constitution 2010 says, "Every person is equal before the law and has the right to equal protection and equal benefit of the law.