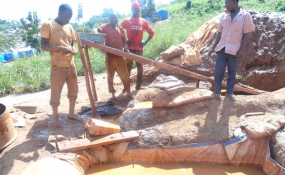 Photo: Daily Monitor
By Brian Mugenyi
A google search for the origin of the word tarpaulin (etundubaali) shows it came from the words 'tar' and 'palling'. It referred to a tarred canvas pall used to cover objects on ships during the mid-19th century in Europe.
Tar is a thick black liquid used to cover something to preserve it. Sailors often tarred their own over clothes in the same manner as the sheets or palls.
Somewhere in Lubaali gold-site in Bukuya Sub-county, Mubende District, built-up shelters made by tarpaulin aligned from all corners are what meets the eye from a distance. These are living quarters for artisanal and small scale gold miners. They are many and congested.
A stranger looking at it from a distance would think they are looking at a military camp at first gaze. As with other sites (such as fishing or mining), businesses such as transport, kiosks, saloons and restaurants can be seen as one climbs towards the mines.
Once at the mines, you are greeted by the sight of gold-miners digging away as well as noise created by the tools they use to crush rocks.
Since the 1980s, locals and a small number of foreigners from countries such as Rwanda, Kenya and Tanzania have been drilling rocks at different gold-sites in Mubende. The places include Lugongwe gold-site on Ndimulaba Road and Lubaali gold-site in Bukuya Sub County, looking for the highly coveted mineral.
This kind of mining, according to mining experts, is described as illegal. But for those making money, that is not a problem.
Sarah Mangeni, 25, is a gold buyer at Lubaali gold-site. She says when she joined this business about two years ago, her parents were supportive and gave her Shs3m as start-up capital to buy gold from miners.
Since then she has been selling it to different individuals in Kampala, who she says sell it to foreign countries to get manufactured gold-coated products such as jewellery.
Ms Mangeni says she buys a gram of gold at Shs110,000 and sells it for between Shs130,000 to Shs140,000 to gold buyers in Kamwokya, Kampala.
With the money she says she has been able to buy two plots of land in Mukono at Shs7m each, set up a saloon in Kireka, and plans to put up a boutique in Kampala.
While people like Ms Mangeni are benefitting from the business, others, especially the residents of Mubende, say the small scale gold mining has not improved their lives as they had hoped.
Fredrick Kyamudugaza, now in his advanced years, is famous in Mubende gold mines. This is not because he is rich, but because he is said to be the man who discovered gold in the area in 1987.
Interviewing Mr Kyamudugaza is not easy. He declined to have his picture taken, insisting one must pay for a click of their camera and the gold-related information itself. With some persuading, however, he relented and told a little about his experience.
Mr Kyamudugaza said as much as he discovered gold, his life hasn't changed financially.
"I thought this would help me live a lavish life. I imagined driving a car, and even building a mansion. Gold is here, majority know about it but it hasn't changed me in any way," he said.
Mr Kyamudugaza says because they use traditional tools such as hoes, hammers, pangas, knives and sacks to dig and carry iron ore where gold is got, it is difficult for them to collect enough grams of gold per day.
"I cannot tell you that we get desired money here. If we underground workers have no modern tools to dig out gold, there's no way we can attain much from it," Mr Kyamudugaza says. He says they have no technical knowhow on marketing the gold they get.
Even with those hardships, however, the gold has not lost its allure. According to Betty Najjuuko, 24, a mother of two and a fish monger at the mines, large groups of youth are occupying the area, many of them having dropped out of school to look out for "easy money" by looking for gold.
She says the cost of living is high - one pays Shs1,000 for a jerrycan of water and Shs100, 000 to rent a tarpaulin-made shelter for a month. One also has to buy food and pay for other basic needs.
Because the mining is illegal, Mr Amooti Kibuuka, the Mubende District chairperson, says the district does not get any local returns from gold-miners, something the government should think about because it's a community mineral which should be charged for. He says if gold miners are granted mining licenses, it would help the local government to collect revenue.
Mr Aloysius Nkeratanya, the chairperson of Mubende gold-miners, said after a surprise trip to the mines recently that some groups of miners applied for a location license in 2013 but they haven't got any feedback from the government.
Mr Don Bwesigye Binyina, the Mineral and Energy policy analyst at the African Centre for Energy (ACEMP) said they are tasked to complete the review of the mining policy and legislation in Uganda so that even the artisanal and small-scale miners are looked after because they aren't quoted anywhere in Uganda's mining laws.
He says today, 90 per cent of mineral extractors in the country are artisanal and small-scale miners and the government should frame a special gold license for them because sometimes mineral licenses are unfairly given to the already established big-mining companies.
"Licensing criteria of first-come-first-serve has attracted a big number of investors who are even less competent in the field," he said.
In 2001, Uganda had 190 mining licenses but now more than 900 licenses have been issued to investors.
Mr David Ssebagala, the senior inspector of mines in the Ministry of Energy and Mineral Development, says one of the emerging issues in the sector today is the illegal gold mining in Mubende. He adds that although people are extracting gold illegally in Mubende, he's aware that some of them applied for mining licenses though the government has delayed to authorise them in accordance with mining laws.
He says the delay in granting mining license at times is caused by the limited budgetary allocations to the mines inspection department by the government.
Following the delayed actions by the government, some residents have been forced to migrate from their land and move to virgin areas due to fears that they could lose their land to gold miners or conmen. Some already have.
"Two men came to my place. They told me that they had explored my area and it was gold-rich. They promised to compensate me; the land was taken away and no one has compensated me as yet," Ms Ann Nanseeli, 36, says. She is a mother of six.
She says when she referred this issue to local authorities, all she was told was that she couldn't own a piece of land where minerals were, and that she had no land title to prove ownership.
Ms Nanseeli got another place to settle on with the help of her relatives and husband. But others are not as lucky.
Mr Denis Kusasira, a lawyer with ABMAK Associates, says the mining laws in Uganda have many loopholes and the government should revisit them. He bemoans the absence of national resettlement and compensation policy document.
"Compensation is assessed by the chief government valuer in accordance to the law. At times compensation is assessed and the displaced person receives a disturbance allowance of 15 per cent (of the value)," Mr Kusasira says.
Mubende has 11 sub counties, 70 parishes and 696 villages, and it's historically known for focussing on peasant. But because of gold-mining, the percentage of food production reduced to 50 per cent last year according to Mr Edward Ssenkusu, the Kitumbi Community Development Officer.
He says people have shifted to gold mining for quick gains and child labour has gradually increased.
Mr Emmanuel Kibirige, the chairperson Ssingo Artisanal and small scale miners association, says it's believed that over 60,000 people are either directly or indirectly into the gold business and about 25,000 of them are women.
Ms Robinah Kyakahaire, who runs a clinic in Lujinji village, says on average a large group of people in the miners are surviving on snacks and chapatti and because the price of food increased due to high demand. A plate of matooke and beans, for example, costs Shs2,000 upwards. This is relatively high for a rural area.
Ms Kyakahaire says last year she handled 112 cases of minor injuries involving miners. Some were hit by rocks and 96 were cases of assault. Hers is the only clinic in the area and she is the only health worker.