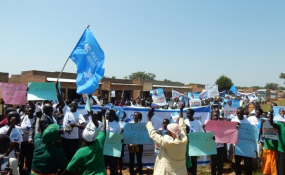 Photo: Bill Oketch/Daily Monitor
By Bill Oketch
Lira — Hundreds of people on Monday gathered at Barlonyo in Agweng Sub-county, Lira District to commemorate those killed by the Lord's Resistance Army (LRA) insurgents during a raid on Barlonyo internally displaced people's camp on February 21, 2004.
More than 300 civilians were massacred by the LRA rebels in the attack. Peace activists said remembrance of the dead plays a big role in the healing process.
"Remembrance has proven to be a strong tool for social reconstruction, especially in dealing with trauma, conflict and tension, and also in addressing stigma within the community," said Mr Isaac Okwir Odiya, a Justice and Reconciliation Project (JRP) senior official.
Mr Okwir added: "Over the last 11 years, JRP has played a key role in understanding and explaining the needs, concerns and interests of war-affected people in northern Uganda through research and documentation. Adopting a victim centred approach, we have built the capacity of many victim communities to play a lead role in advocating for justice, accountability and reconciliation as well as dealing with their conflict challenges on their own."
Prof Mirjan Van Reisen of Tilberg University in Netherlands, said the survivors of the massacre need to undergo psychosocial rehabilitation in order for them to come out of the trauma they went through during the two-decade LRA insurgency.
Mr Kennedy Odongo, the area LC1 chairman, appealed to government and its development partners to build a health centre in the area to enable the community access health services.
Currently, the community of Barlonyo trek more than 10 kilometres in search of health services at Ogur Health Centre IV in Ogur Sub-county.
Ms Betty Akello, a mother of six, said they face difficulty in accessing services at Ogur Health Centre.
The area MP, Mr Charles Angiro Gutumoi, told the gathering that he had already reminded President Museveni through Prime Minister Ruhakana Rugunda about his pending pledges to the people of Barlonyo.
However, he did not clarify on the President's pending pledges.