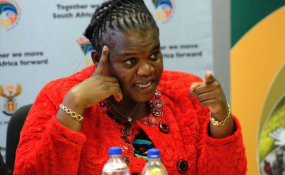 Photo: Government of South Africa
document
The Ad Hoc Committee on the SABC Board Inquiry is confident that it has considered all the responses to its draft report in a detailed, fair and transparent manner.
It spent two days dealing with extensive submissions and annexures received from affected parties including, among others, the Minister of Communications, Ms Faith Muthambi, SABC management, SABC employees and former-employees and the Auditor General of South Africa (AGSA).
The Committee will deliberate on the findings and recommendations tomorrow at 2pm in the Old Assembly Chamber.
"I am still confident that we are well on track and hopeful that we will conclude and adopt the final report by Friday," said Mr Vincent Smith, Chairperson of the Committee.