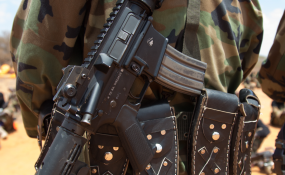 Photo: Hamza Mohamed
Somali President Mohammed Mohammed Abdullahi Farmajo request for mediation Arabia and the United Arab Emirates to persuade not to complete the establishment of a military base in "Somaliland".
The Riyadh Post, quoting an official in the Somali government President Farmajo asked officials Saudis convince the UAE not to proceed with its plan to establish a military base in the breakaway republic of "Somaliland", which is not recognized by Mogadishu.
The Somali president had visited Saudi Arabia last Thursday in his first foreign visit since he was elected president of Somalia, where King Salman bin Abdul Aziz, met in the capital, Riyadh, where the leaders of the two countries discussed bilateral cooperation and the latest developments in the region.
The report notes that Farmajo discussed the issue of al-Qaeda-linked Al shabaab in a meeting with Saudi's Deputy Crown Prince Mohammed bin Salman bin Abdul Aziz, attended by Minister of Foreign Affairs Ahmed Adel al-Jubeir and other senior Saudi officials.
Somali president seeks to take advantage of the close ties between Saudi Arabia and the strategic UAE ally, the UAE to convince not to proceed with the establishment of a UAE military base in Berbera.