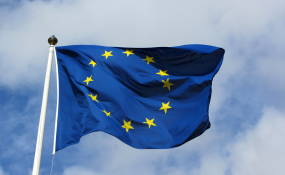 Photo: Bobby Hiddy/Flickr
By Saumu Mwalimu
Dar es Salaam — The European Union (EU) delegation in the country says it waits government communications following the decision to relocate its seat to Dodoma.
At least 16 out of the 19 ministries have already shifted their headquarters to Dodoma since September last year.
As per Vienna Convention, the headquarters of diplomatic missions are supposed to be located to the government capital city. This means many of diplomatic missions based in Dar es Salaam will have to relocate to Dodoma in due time.
However, Head of the EU Delegation to Tanzania Roeland van de Geer told The Citizen by email that they were aware that many ministries and other public offices had already relocated to Dodoma, but they were still waiting for official communications from the government. "The EU Delegation looks forward to being fully briefed by the minister of Foreign Affairs and East African Cooperation, the Hon Ambassador Augustine Mahiga, who will give us an overview of available options," said van de Geer.
On Monday, Dr Mahiga said in a press conference, while in Dodoma that members of the diplomatic community had been willing to share experience from their own countries on how to facilitate the government's decision to shift its seat to Dodoma.
However, he said the diplomatic missions had not expressed their own plans of moving their offices from Dar es Salaam, where over 50 embassies and high commissions were based. According to Dr Mahiga, he will meet with the heads of missions next week where they will share some ideas about the relocation to Dodoma. In July last year, President John Magufuli announced the mandatory shift of the ministries and other government departments to the designated capital.