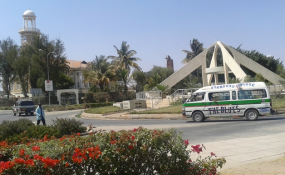 Photo: Daily News
By Valentine Oforo and Sharon Sauwa
Dodoma — Chief Secretary John Kijazi yesterday directed permanent secretaries of ministries that have already relocated to Dodoma to refrain from frequently travelling to Dar es Salaam.
"You should stay in Dodoma and travel to Dar es Salaam only when absolutely necessary," he said during a meeting with the senior ministry officials.
He directed permanent secretaries who had already moved to Dodoma to make sure that officials under their dockets who were still in Dar es Salaam were transferred to Dodoma as soon as possible.
Mr Kijazi said the decision to hold the meeting in Dodoma was testimony to the fifth phase government's commitment to permanently move its seat to the municipality after years of dilly-dallying, and urged Dodoma residents to grab opportunities that would accompany the relocation.
"I'm calling on residents of Dodoma and neighbouring regions make full use of the many opportunities that will present themselves."
Mr Kijazi most of the ministries that had moved to Dodoma were being accommodated in temporary offices, adding that he had directed the permanent secretary in the Prime Minister's office to prepare a proposal on where the government city should be located within the municipality.
The proposal will be discussed by the Cabinet later this year.
Mr Kijazi added that the government would from the next budget start to set aside funds for constructing buildings which would host ministries.
The Minister of Education, Science, Technology and Vocational Training, Prof Joyce Ndalichako, told The Citizen that 65 senior officials from her ministry had already relocated to Dodoma.
She said the ministry was currently being housed at the University of Dodoma (Udom)and added that permanent buildings for the ministry would be erected in the heart of the municipality.
The Minister of Health, Community Development, Gender, the Elderly and Children, Ms Ummy Mwalimu, said health services were being improved in Dodoma Region in anticipation of an influx of government employees from Dar es Salaam and other parts of the country.
She said Benjamin Mkapa Hospital, which is located at the Udom campus, would soon start to offer MRI, CT scan and mammography services.
"The hospital will save people in Dodoma and neighbouring regions the inconvenience of travelling all the way to Dar es Salaam for the services. It will also help to decongest Muhimbili National Hospital."
More than 14,000 hectares in various parts of the region have been surveyed by the Capital Development Authority for development since the government announced its decision to shift its seat to Dodoma last year.
CDA Director General Paskari Muragiri said the land will be used for construction of government offices, residential buildings, shops, schools and other buildings.