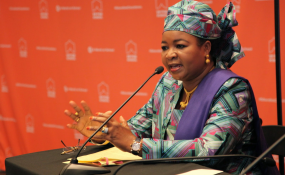 Photo: Daily News
By Esther Karin Mngodo
Dar es Salaam — A brief dispatch from the State House on Wednesday night announced the nomination of former First Lady Salma Kikwete as an MP, stirring a huge public debate on the unprecedented move by President John Magufuli.
Mama Salma, as she is popularly referred to, would make history as Tanzania's first former first lady to become Member of Parliament. Her husband, Mr Jakaya Kikwete, stepped down as Head of State in 2015 after serving a constitutional limit of 10 years.
Yesterday, President Magufuli embarked on his maiden tour of Lindi Region which is Mama Salma's birth place and political base. The visit, it would appear, was a cleverly choreographed move which intensified the attention on Dr Magufuli's arguably significant political move ahead of the ruling party's intra-party elections a couple of weeks away.
On the surface, opinion is divided on what the appointment of the former first lady means to the nation, or what exactly it portends to CCM and President Magufuli as its chairman. Debate on social media was centered on support or disapproval depending on what side of the political divide one stood.
However, behind the scenes, Ms Kikwete's nomination is being described as a major step by the administration to reach out to a group of politicians with a huge influence within CCM, and who were seen as drifting away from the President.
President Magufuli, despite his elevation to the party's top position, is not sitting pretty, quite yet, according to party insiders, who claim the CCM chairman was still without the staunch backing of some of the ruling party's power brokers, especially in the grassroots, who view their new leader as more of a boardroom executive.
Ms Kikwete is placed in the group that has not warmed up well to President Magufuli, considering that she was seen and vigorously campaigned in support of the candidacy of Mr Bernard Membe to clinch the CCM ticket to succeed her husband. Mr Membe, a close friend of the former first family for many years was Kikwete's foreign affairs minister for eight years, also hails from Lindi and has taken a low profile since his defeat in the CCM nominations in which Dr Magufuli overcame odds to triumph.
President Magufuli's crackdown on tax evasion at the Dar es Salaam Port soon after he came to power would be another friction point that drove a wedge between the former first family and the new administration, with the names of Ms Salma and her stepson, Ridhiwani Kikwete, constantly being linked to alleged tax scandals, albeit unofficially.
At one point, when the roumours of alleged business dealings between the former first family and businesses that were under scrutiny from the government peaked, Mr Kikwete was forced to come out to defend his family from any wrongdoing.
The former President asked people to leave her family alone, stating that those peddling that line of thought were out to spoil his reputation and paint his family as being anti-government. President Magufuli is also on record clarifying that the government was at peace with the former first family.
Furthermore Ridhwani, now an MP in his father's former constituency of Chalinze, has also spoken publicly of his innocence in the alleged scandals. He was among those who took to social media to hail the nomination of Ms Kikwete whom he described as a champion for women rights in the country.
The surprise nomination and the subsequent Lindi tour was thus being seen as an attempt by the President to pacify the group coalescing around the former first family and reach out to their support and network among CCM members. Ms Salma is a NEC member for Lindi and enjoys huge approval in the party's women wing, UWT. She played a big role for CCM in the region that has leaned towards the Opposition in recent years.
The UWT chairlady and former cabinet minister, Ms Sofia Simba, was quick to agree that Ms Kikwete's nomination was for the purpose of healing the party and serve women more.
"The nomination of Mama Salma has come at the right time to promote harmony in the party," she said. However, she was unwilling to further explain on this.
Ms Simba opined that President Magufuli has done a commendable thing and added:
"It is a wise move that shouldn't really surprise anyone. We have already seen First Ladies in other countries becoming inisters, others vying for the Presidency. So, this should not surprise us. Women can do it."
"I am so happy, this appointment is great news. Mama Salma Kikwete is an experienced politician and an activist in issues relating to women and children. I believe that she will inspire the fraternity of women MPs in leadership. She has travelled all over the world, which has exposed her to a lot of experiences as a leader," said Ms Simba.
As First Lady, Mama Salma founded Wanawake na Maendeleo (Wama), a non- governmental, non-profit organisation that dealt with women empowerment. She also founded Wama Secondary School in Rufiji District, Coast Region.
The school is one of the best equipped in the country and enrolls bright but disadvantaged girls.
On social media, there were praises and criticism. Ridhiwani commended the President while others were against his move. He tweeted yesterday, congratulating his step mother. His tweet read: "You have been an activist for women and gender issues. You have helped many girls to access education. You are an iron-lady. Congratulations on your nomination."
Mr Kitila Mkumbo, senior lecturer at the University of Dar es Salaam and ACT-Wazalendo's Chief Party Consultant, said it is possible that the President's move is related to the coming party elections. This could be aiming to unify the party, he said.
"It is meant to benefit CCM than it is of national interest. As the ruling party nears its internal elections, it needs to be united by all means. It is also important to note that CCM's Lindi/Mtwara zone is not strong in representation when compared to other zones. However, as a representative of Lindi Region in the National Executive Committee, Mama Salma is a strong candidate," he said.
"When Dr Magufuli was campaigning and when he finally got into power, he did his best to distance himself from the previous government. He entered with the face of an oppositionist. He wanted to show that his was a different act," he said.
He pointed out how, during the 2015 General Election, there were various 'camps' within the ruling party.
And when the former science teacher assumed power, he made comments concerning the previous government's efficiency, claiming that President Kikwete had left behind "a burden."
In Mr Mkumbo's view, the President is trying to change this. "Now that he has spent some time in his presidency, he has to mend some bridges that were broken in the process," he said.
"I cannot say that President Kikwete had anything to do with it, but I am sure that he was consulted. At the end of the day, it is the President who knows why he had nominated Mama Salma now."