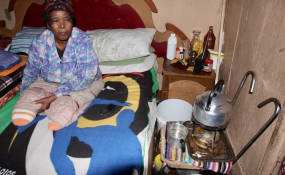 Photo: Mbulelo Sisulu/GroundUp
By Mbulelo Sisulu
Beauty Qamata, 72, lost her legs to diabetes three years ago. She spends her days immobile, alone in her shack near Mdantsane, with no running water, no electricity and no toilet.
The former domestic worker sits on her bed in her shack in Bacawa informal settlement. Inside the shack, there is a bed, a cupboard, a wardrobe and a little bedside table. There is no fridge because there is no electricity. To cook, she uses a small paraffin stove placed on a chair near her bed.
Qamata lives with her grandson Chumani, 22, who sleeps in the shack's second room and spends very little time at home. When he is not at school, he is out with friends.
Before he goes to school in the morning, and on weekends, Chumani goes to the public tap to fetch water for his grandmother.
There is no toilet in the house and Qamata has to use adult diapers. She told GroundUp that she changes the nappies herself, puts the used nappies in a plastic bag and leaves them for Chumani to throw away at the nearby dumpsite.
Beauty said she has been living in the shack since 1994 and has applied for a house "countless times".
"Every time during elections I vote, but my vote means nothing. When they want our votes, they issue transport to take us to the voting stations. Our municipality and previous councillors know my situation. But nothing is happening," she said.
She is very afraid of fire. "The shack can burn anytime. I cannot move around the shack. I'm always in this bed. I made a little table near my bed so that I can cook. If this shack burns, I can burn and die here, because I cannot walk or run," she said.
A few years ago, Qamata hired someone to help her but found she could not afford to pay.
Every month, she spends R520 on nappies. "I have to buy food and paraffin. If you do not have paraffin, you cannot cook here because there is no electricity. Now, I survive by borrowing money from other people, every month. I get my social grant, then I will buy nappies, food, and paraffin and then pay the person that I owe. Before the month comes to an end, I have to go and borrow money again. So my life is like that, I survive by borrowing money," she said.
She said her sons and other members of her family lived far away.
Following questions from GroundUp, Councillor Gwebile Kosani said the provincial department of Human Settlements had visited Qamata. "Beauty and other disabled people are the first priority. They are going to get houses once the municipality and the department have land," he said without giving a time frame.