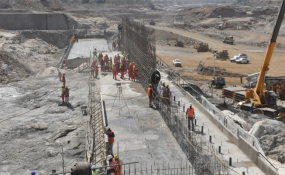 Photo: The Ethiopian Herald
By Yared Gebremeden
The Addis Ababa Youth and Sports Bureau senior officials and employees pledged to continue financial supporting for Grand Ethiopian Renaissance Dam (GERD) in a recent held meeting.
It was also noted that the Bureau bought bonds worth over 1.3 million Birr through coordinating various government and public wings during the recent bond week.
Bureau Head Nigatu Dagnachew said on the occasion the construction of GERD is well underway , every fellow citizen in general and the youth in particular needs to step up efforts to realize the flagship project in the most vehement manner.
" Addis Ababa residents have been actively participate in providing financial, technical and moral supports towards GERD since its inception," said Shitaye Mohamed Chief Director for the Office of the National Council for the Coordination of Public Participation for the Construction of the Grand Ethiopian Renaissance Dam.
According to her, the people in the metropolis have recently bought bonds and granted worth over seven million Birr to the project.
Moreover,she said: " Over 30,000 people from the capital city have so far paid homage to GERD.