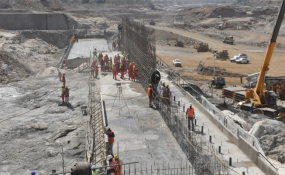 Photo: The Ethiopian Herald
opinion
By Homa Mulisa
In such a carbon constrained world of today, the development of renewable energy sources like that of electric power is remarkably compelling. Recent studies indicate that 600 million people in sub-Saharan Africa, which accounts for the 70 per cent of the population lack access to electricity. Half of all businesses in this part of the continent say that the lack of reliable electricity is a major constraint. Power outages cost African countries an estimated 1-2 percent of their GDP every year.
In the other end, the expansion of industry in these nations including Ethiopia enforces an exhaustive search for all available sources of energy, which will be carried out with a very little harm to the environment. Besides, the nation shall secure a dependable supply of energy that drives the growing economy and relieves poverty. In a sense that energy is indispensable to nation's economic development, the country is very likely to craft its energy policy in a manner it will be driven by a strategy that could make every possible reduction in carbon emissions to the environment.
In the early 1990s, Ethiopia used to generate electric power a tally of not more than 380 megawatts (MW). However, in the last five years, an array of activities has been undertaken in relation to power generation from all sources available in the country, reveals Misiker Negash, External Relations Director at the Ethiopian Electric Power Utility, speaking to The Ethiopian Herald. Accordingly, from hydro-electric sources currently being the major source of power, the country generates a total of 3,404 MW of which, 73 MW from Tis Abay, 184 MW from Gibe I, 300 MW from Tekeze, 420 MW from Gilgel Gibe II, 460 MW from Tana Beles, 97MW from Fincha Amerti Nesse, 1,870 MW from Gilgel Gibe III.
Likewise, from other sources, 51 MW from Adama I wind farm, 120 MW from Ashegoda wind farm, 153 MW from Adama II wind farm is being generated. Moreover, there is a geo-thermal power generation plant with a capacity of 8 MW. In general, the country is generating a total of 4260 MW at the moment from all sources combined.
Studies conducted in different times indicate that the country possesses water and other natural resources that can enable it to generate electric power up to 60,000 MW. Similarly the country is blessed with capacities of power generation in wind farms, geothermal and solar sources. These projects of power generation in general due to their environment friendly nature shall contribute to green development strategy the country pursues.
According to Misikir, Ethiopia strongly advocates the development of renewable energy and environment friendly power generation projects in Africa and the world. Hence, the country has been campaigning on minimizing carbon emission to mitigate the grave impacts it poses to the ecology of the planet and global climate.
The Grand Ethiopian Renaissance Dam (GERD), when operational with its full power generation potential, is expected to produce more than 6450 MW which makes it the biggest hydro-electric power dam in Africa and the eighth biggest in the world. At the moment 58 percent of the works in the project has been completed. Besides, Genale-Dawa III project, which currently has reached 83 percent, is expected to generate 254 MW up on completion. Moreover, the power generating plant project being installed at Repi, Addis Ababa in the aim of generating electric power from waste has reached 88 percent and is expected to generate 50 MW up on its completion, reveals Misikir.
The country relentlessly endeavors to attain a total of 17,000 MW by the end of Second Growth and Transformation Plan (GTP II) from all sources in the country.
As the country's economy is rising like never before, the demand for electric power has tremendously increased. Consequently, more than 40 percent of the power generated is set to be used for industrial purposes, while the rest intended for the consumption of service enterprises as well as households.
Addressing questions concerning electric power export, Miskir said that it is planned to use every bit of the power generated for domestic consumption where as it is also planned to sell surplus power to neighboring countries. The country is now exporting about 60MW to Djibouti. In addition, it is also agreed with Sudan to export a power ranging from 50-100 MW and now a portion of the deal is being exported. However, this is undertaken in a manner it does not affect the domestic power demand, he added.
The issue of power export is not just about earning foreign currency, but about regional integration by which we ensure sustainable economic growth through interdependence. Yet, the export is expected to highly minimize the foreign currency shortage the country is experiencing at the moment. The income will also be available for reinvestment to add momentum in our development efforts, according to Misikir.
The power export is pivotal to strengthening regional integration in addition to the foreign currency our country earns. The region is being integrated in power, railways, and highways which ensure peace and stability in the region, resulting in a feasible atmosphere for sustainable growth and prosperity.
Misikir also commented on the development of transmissions, sub-station infrastructure, claiming that the effort has leaped ahead in the last fifteen years with installation of 19,000 meters of high voltage transmission lines. Hence, the electric power access in the country has reached more than 56 percent from 8 percent in early 1990's.
According to the Electric Power Research Institute (EPRI), energy related environmental challenges like resource depletion, waste and emissions demand the exploration of alternative road-maps toward sustainability for the electric power industry. Hence, in the view of that, Ethiopia not only follows but also advocates green development strategy across the globe, the development of renewable energy promotes a carbon free economy in Africa as we aspire to become a power house of the continent.