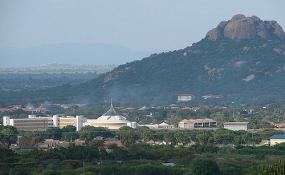 Photo: Elly2nyi /Wikpedia
By Valentine Oforo News@thecitizen.cotz
Dodoma — Dar es Salaam-based Global Agency Limited is expecting to invest in the real estate industry in Dodoma Region, it has been learnt.
The firm's planning officer, Mr Said Mohamed, said they had decided to chip-in and invest in the country's administrative capital city in order to allow government officials to own modern and low-housing.
He said his firm was using cheap but steady building technologies and that a simple three-room house would be marketed at between Sh16million and Sh18million.
"We have decided to play our part in supporting the government's smooth relocation of its seat from Dar es Salaam to Dodoma by ensuring that officials own houses at affordable costs," he explained.
For his part, Dodoma Regional Commissioner Jordan Rugimbana said there are several investors that have shown interest in investing in the real estate industry in the capital city.
"Doors are still wide open for many investors to come and invest in diverse sectors since there are still many opportunities up for grabs. Our goal is to ensure that all government staff relocate here and possess their own houses in order to deliver best services," he said.