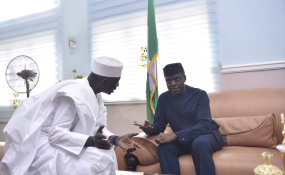 Photo: Premium Times
By Msue Aza
The Prime Minister of Guinea-Bissau, Umaro Embalo,on Thursday landed in Kaduna International Airport and held talks with Acting President,Professor Yemi Osinbajo,at Airforce Base,Mando Kaduna.
The brief meeting between the two leaders over the political crisis in Guinea-Bissau had the Minister of state foreign Affairs, Mrs Bukar Ibrahim,Kaduna State Deputy governor,Arch. Bala Yusuf Bantex, top security commanders and government functionaries in attendance.
Briefing journalists after the closed door meeting, Osinbajo,who stopped over in Kaduna on his way to Sokoto state on official visit, said they deliberated on political crisis in that country and solutions to the instability.
Osinbajo while expressing sadness over the situation,called on political stakeholders in Guinea -Bissau, to embrace peace.
The Acting President noted the commitment of Nigeria to continue supporting the ECOWAS-led mediation process and the full restoration of peace in Guinea Bissau.
Osinbajo,however said the Nigerian government will continue to partner with Guinea Bissau in the areas of economy and security.
The Acting President said:"Am sure you are familiar with Nigeria's engagement with Guinea Bissau. We will continue to engage until this issue is resolved.
And we think that ECOWAS will be able to resolve it very soon as active stakeholder. And we hope that in very short time, we will resolve that with other parties involved.
We are collaborating in every possible trend . As I said , Guinea Bissau and Nigeria have been partners and friends for a very long time, and we are very very actively involved, and We collaborate with Guinea Bissau on economic issues, security and even political issues as you can see" Osinbajo added.
On his part, the Prime Minister,Umaro Embalo,said he was in Nigeria to brief the Nigerian leader on the socio-political development in his country and to seek for more support.
The Prime Minister said: "I came to Nigeria to visit the president and then to seek advice from our friend and brother from Nigeria. You know that our relationship with Nigeria is not today, it was during our struggle and liberation. Nigeria is always supporting us and that is why i am here to explain to the Acting President about the political situation in Guinea Bissau. And Nigeria leading the group, i am happy" explained.