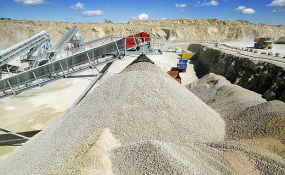 Photo: Dangote Group
By Tewodros Kassa
Ethiopia and China signed a memorandum of understanding (MoU) which would enhance the cement industry.
The 2017 Ethio-China Cement Forum (ECCF) themed: 'Partnership in Excellence' was opened here yesterday.
Speaking at the occasion, Industry State Minister Dr. Alemu Sime emphasized that the forum is vital to draw the Chinese vast experience in the sector.
He further said that there is a high potential for the cement industry, and the national capacity is also growing steadily. "The national installed capacity has reached about 13 million tons and the annual consumption grows by over 10%."
The Ethiopian Cement Association would also organize similar forums as solutions to potential problems until excellence is achieved in the Ethiopian cement sector, he said.
Chinese Cement Association Director Chen Fei also said that the forum is a kick off in the Ethio-China cement industries information exchange and cooperation.
The MoU is fundamental to promote sustained partnership in the sector, she added.
Ethiopian Cement Association Chairman and Derba Cement Factory CEO Haile Assgdie for his part asserted that the forum is helpful in that it plays a significant role in stabilizing country's cement market.
The MoU is also considered to tackle challenges of skilled human power in the sector, he said.
According to him, currently there are 17 companies operating in cement production in the country.
Science and Technology State Minister Prof. Afework Kassu said the forum is relevant and timely because the cement industry has been given due attention in GTP II in line with the booming construction sector. The forum will be a great opportunity both in terms of understanding the merits of partnership and in establishing viable networks of interaction and public-private partnership, he added.
The forum will continue and provide a five-day training to the sector practitioners in the country.