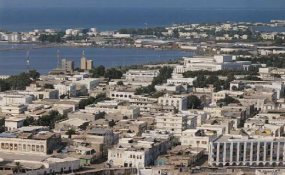 Photo: AlexandreTheGreat
By Bilal Derso
High level and Frequent reciprocal visits are believed to prop up the relations among countries by enabling them seek new areas of cooperation and enhancing the existing ones.
This is true for Ethiopia and Djibouti, widely regarded as torchbearer in fulfilling AU's vision of economic integration in IGAD region.
President Ismail Omar Guelleh's three-day state visit as of today is also a case in point that would take the two countries ever evolving relations to a new height. Mohamed Idriss Farah, Djiboutian Ambassador to Ethiopia, agreed with this same fact.
The ambassador said: "We have so many things in the pipeline. Among other things, President Guelleh's visit is aimed at cementing the two countries economic integration exchanging views on two issues: commencement of the Addis-Djibouti railway project as well as merging of custom and immigration system at a single border post."
The agreements would have a pivotal role in enhancing the exchange of people and goods between the two countries.
Ethiopia attaches due emphasis for its relations with Djibouti taking in to account the role the latter has played in the socio-economic development as well as peace and stability of the Horn.
According to Ambassador Farah, Djibouti shares Ethiopia's stance as a neighboring and sisterly country.
He said: "Our major partner is Ethiopia. We are neighbors, brothers and have similar people living in both sides of our borders."
Ethiopia currently exports 100 MW of electricity to Djibouti and agreement had been signed for the daily provision of 103,000 cubic meters of ground water to Djibouti for 30 years.
The Djibouti Telecom is providing internet protocol (IP) transit lines for Ethio-Telecom and they are closely working to upgrade the capacity of the optical fiber that stretches to Ethiopia to help meet the ever rising demand for broadband internet access.
The twice-daily flights by the Ethiopian Airlines is also believed to play a big role to incorporate people and cultural aspects in the economic integration efforts.
In the trade frontier, Djibouti was Ethiopia's eighth biggest export destination in the world and second in Africa with imports worth 125.2 million USD in the 2015/16 fiscal year, the ministry of trade states.