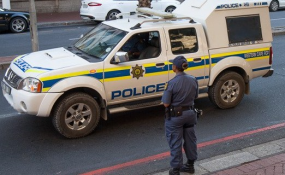 Photo: Ashraf Hendricks/GroundUp
A reward of R10 000 is being offered to anyone with information which leads to 13-year-old Rene Roman being found and returned home safely.
This comes after five days of community searches following her disappearance. No trace of the girl has been found.
An anonymous donor offered the money as an incentive to help bring Rene home, community police forum chairperson Lucinda Evans said.
Since Friday dozens of residents and volunteers have been walking the streets in search of her, but none of the leads have been fruitful.
"Today volunteers did door-to-door searches in the Cafda area, which keeps popping up [in tip-offs]. The area is not far from where she lives," Evans said.
The search continues around the clock, with a day team hitting the streets until nightfall when a new group starts its patrol.
Classmates 'emotional'
Rene, described by those who know her as quiet and obedient, disappeared on Friday at 13:45 near her St Montagu Village home.
She had been helping her mother remove dry washing from the line when she asked to go to the shop to buy chips.
She never made it there, even though the shop is only a few houses away.
Evans visited Levana Primary School, which Rene attends, on Monday.
"Some of her classmates were very emotional and will receive trauma support. The children were also encouraged to share any information they may have with regards to her whereabouts," she said.
Rene's stepfather Mervin Jacobs said dealing with her disappearance becomes harder as the days pass.
"It's difficult. Right now all we can do is wait," he said.
'We need her to come back home'
Jacobs insisted that Rene would never run away from home, previously describing her as an obedient child who asked for permission before going anywhere.
He believed she was taken against her will.
Her younger brothers and sister have been traumatised by her disappearance, Jacobs said, and received counselling on Tuesday along with their mother.
He was still hopeful that the girl he helped raise since she was two years old would be found unharmed.
"All I want her to know is that we love and miss her. We need her to come back home," he said.
News24