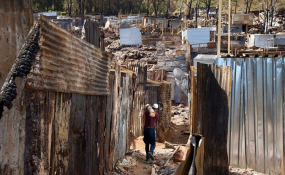 Photo: Ashraf Hendricks/GroundUp
The City of Cape Town on Wednesday said redesigning Imizamo Yethu informal settlement will cost close to R100m following a devastating fire on Saturday and Sunday.
"The redesign will allow us to install firebreaks, pedestrian walkways, and other access to basic and emergency services which we have not been able to do previously due to the density of this settlement," Deputy Mayor Ian Neilson said in a statement.
On Tuesday mayoral committee member for safety JP Smith said 7 300 people had been affected by the fire which killed four people.
Neilson said the Western Cape government has offered to help with burial arrangements for the deceased.
Three community halls and two marquee tents have been erected as temporary accommodation, Neilson said.
"An environmental health practitioner is on site daily to inspect the living quarters, ablutions, water provision, and the main kitchen at the fire station where two meals per day are being prepared for the beneficiaries," he said.
News24