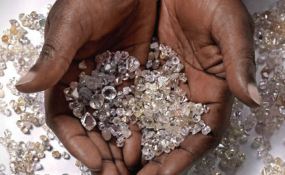 Photo: The Herald
By Nyasha Chingono
GOLD prices are expected to hit a two-year low, trading at under US$1 000 an ounce this year owing to projected low demand from jewelleries, industries and retailers at the back of a stronger United States dollar, a World Bank (WB) commodities forecast has revealed.
The development is likely to affect Zimbabwe's mining sector, which had recovered after a hyperinflationary-era slump that ruined operations.
By last week, gold was down 0,5 percent at US$1 209 an ounce after touching its lowest since February at US$1 206, putting it on track for a fifth straight session in the red.
For local producers, the current trend of dipping weekly prices would hurt operations as most companies are struggling to recover from the decade long recession.
But government has dismissed the World Bank's forecast, saying they expected gold prices to remain bullish this year.
Deputy Minister of Mines, Fred Moyo, said the US economy was fragile and any increase in interest rates would not necessarily affect the demand of gold since Asia is the world's biggest gold market.
"The centre of economics is Asia so we should focus on what is happening there. Asia has a larger population and a vibrant market that demands more gold," Moyo said.
The Ministry of Mines and Mining Development says Zimbabwe is targeting US$1,2 billion in gold revenue this year.
Last year, gold revenue was just under US$1 billion.
Gold is one of Zimbabwe's largest foreign currency earners and a dip in prices would not be favourable for an already struggling treasury.
In a bid to improve gold earnings, the Reserve Bank of Zimbabwe (RBZ) has called for the decriminalisation of artisanal mining.
Economist John Robertson said Zimbabwe should not ignore WB forecasts.
"No matter where you sell, you will sell at the same price. We have no power to influence prices on the international bullion market hence cannot decide where to sell our gold," said Robertson.
But Moyo said since the demand of gold was still high, prices would remain favourable to Zimbabwe.
"We should take the World Bank report with caution because demand for gold has not gone down," he said, insisting that local gold producers were anticipating gold prices of between US$1 200 and US$1 250 an ounce.
He said the WB forecast was alarmist.
In case gold prices plummet, Moyo said the local gold sector had measures in place to reduce costs of production to around US$1 000 an ounce.
"In case the demand for gold goes down, we will make sure that we produce at below US$1 000 an ounce... we should be able to keep costs at a minimum," Moyo said.
Robertson said if gold prices tumbled, it would cripple Zimbabwe's foreign currency revenue base that is also supported by tobacco and platinum as some of the country's biggest foreign currency earners.
"If the prices go down, that will affect our spending on imports," said Robertson.
Buoyed by last year's 40 percent growth in earnings of US$18,6 million against US$13,3 million in 2015, Metallon Gold, the country's largest gold miner by output, is anticipating a positive outlook this year.
"There are vast opportunities in gold mining in Zimbabwe and this has always given us a positive outlook," said a spokesperson for Metallon.
Metallon will start exploration in Tanzania and is aiming at producing 500 000 ounces per annum in the next five years.
Gold producers such as Falgold that suffered a US$1,3 million loss last year owing to low production is expected to return to profitability and favourable international prices would have marked a positive return.
The world gold market has witnessed a tumultuous five weeks as gold prices have continued to take a tumble, with large gold producers predicting the continuation of the trend for the next three quarters.
"Gold will be volatile for the next three quarters, but ultimately the fundamentals are in place for a rise in gold prices," said an industry expert.
Gold prices once crushed to US$1 000 an ounce in 2015, affecting the viability of gold mining operations.
Gold prices peaked in 2011 to US$1, 895 an ounce.
In January, the yellow metal was trading at an average of US$1, 368 an ounce, but a pending increase in the US Federal Reserve's interest rates is likely to make all greenback valued minerals such as gold more expensive on the market hence low demand.
Higher interest rates would boost the dollar and make commodities priced in the greenback costlier for holders of other currencies, according to analysts.
The Federal Reserve is expected to increase interest rates for the first time in a decade.
Gold prices are expected to decline eight percent this year to average around US$1 150.
India and China, the world's largest gold buyers, are likely to show less interest in buying at current prices to service their respective jewellery markets.
January was the strongest month for gold in over a decade, as US President Donald Trump emerged as one of the biggest drivers of the market at the backdrop of a rise in private sector jobs of 298 000.
The dollar rose on Wednesday last week just below a two-month peak as data showed US private sector payrolls rose more than expected for February, increasing investor expectations of an increase in interest rates.
February was rather a different month, as uncertainties crept in, triggered by US geo-politics where the US Federal Reserve announced an increase in interests' rates late this month.
However, a 2016 Reuters survey tells a different story of how the yellow metal would fare this year.
Prices are expected to skyrocket to US$1 331 an ounce, the highest since 2013 when the metal plunged 28 percent year on year.
According to the Reuters poll, gold is expected to post its highest average annual price in four years this year, after bottoming out last year following three straight years of decline.
The divergent price predictions have stirred uncertainty on the local gold sector that is highly dependent on international prices, with analysts warning of crippling distortions on the international gold market where African suppliers are likely to pocket low returns.