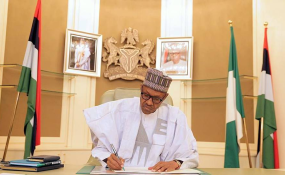 Photo: Premium Times
By Hamisu Muhammad
The total Paris Club refunds from the federal government was estimated at N2.09 trillion, the Minister of Finance, Mrs Kemi Adeosun, said yesterday.
According to Adeosun, the federal government commenced the release of the first tranche, representing up to 25% of claims, being N522.7 billion, in December 2016.
She said disbursement was subject to an agreement by state governments that 50% of any amount received would be earmarked for the payment of salaries and pensions.
She said the federal government's disbursement process was transparent and targeted at the attainment of specific economic objectives.
The inability of some sub-national governments to meet salary and other obligations was considered inconsonant with the federal government's economic stimulus programme.
Claims with regard to over deductions had been made to the federal government, consistently since 2005.
The Debt Management Office (DMO) initially requested for a period of 22 months to complete the reconciliation and facilitate disbursement.
However, President Muhammadu Buhari, considering the plight of salary earners and pensioners and the need to stimulate the economy, directed that the exercise be completed within 12 months.
In addition, Mr. President gave an express Anticipatory Approval for the release of up to 50% of the claim of each state, pending final reconciliation. That reconciliation is undertaken by the DMO, Office of the Accountant General of the Federation (OAGF) and the relevant state governments.
Accordingly, the disbursements are staggered in batches and payments are only made when the claims of each state had been reconciled with the facts at the disposal of the federal government.
Specifically, information was available that some states had been paid either in full or in part, under previous administrations. This necessitated a more detailed review, for the states in question.
In addition, each governor gave an undertaking that excess payments would be recovered from the Federal Accounts Allocation (FAAC), if the final reconciliation found that the amount paid under the anticipatory approval exceeded that due.
At the National Economic Council meeting on Thursday March 16, 2017, President Muhammadu Buhari, instructed the minister of Finance and Central Bank governor to commence the process of resolving the balance of the approved amount.
The overriding consideration for any further releases will be the current and projected cash flows of the federation as well as the outcome of the independent monitoring of the compliance with terms and conditions attached to the previous releases.
The minister of Finance reaffirmed the commitment of the government to publish all relevant information on the Paris Club refunds.