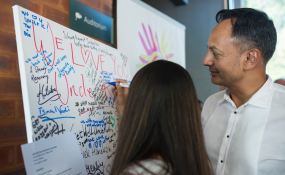 Photo: Ihsaan Haffejee/GroundUp
An inter-faith prayer session for 87-year-old ANC stalwart Ahmed Kathrada was being held at the Lilliesleaf Farm on Tuesday.
The farm, in Rivonia, is where Kathrada and several other anti-apartheid activists were arrested in 1963. On June 12 1964 he and seven others, including Nelson Mandela, were sentenced to life in jail in the infamous Rivonia trial.
Attending the session on Tuesday was human rights lawyer and struggle stalwart George Bizos, Johannesburg mayor Herman Mashaba, Tourism Minister Derek Hanekom, Gauteng Education MEC Panyaza Lusufi and slain SACP leader Chris Hani's wife Limpho. Kathrada is recovering from surgery in a Johannesburg hospital. The Ahmed Kathrada Foundation's Neeshen Balton at the weekend quashed rumours that Kathrada had died. He told News24 that Kathrada's condition had remained unchanged.Last week the foundation said Kathrada's recovery from his operation was "slower than hoped for".
Kathrada was hospitalised on March 4 for surgery related to blood clotting on the brain.
He had initially been admitted to hospital for dehydration, but doctors later picked up the clot, which was removed.
Kathrada is one of three Rivonia trialists still alive today - the other two being Andrew Mlangeni and Denis Goldberg.
Source: News24