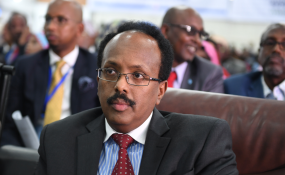 Photo: Ilyas Ahmed/Amisom
Somali President Mohamed Abdullahi Mohamed flew to Kenya Thursday, for his first State visit to the neighboring country ahead of a special summit on the Inter-Governmental Authority on Development (IGAD).
The President accompanying top Government officials jetted off to Nairobi to attend IGAD heads of State summit on Somali refugees which is expected to kick start next Saturday.
Sources said, Somali President Mohamed Abdullahi Farmajo will hold talks with his Kenyan counterpart Uhuru Kenyatta, to discuss the bilateral relations between the two nations.
The summit will be preceded by a special session of the IGAD ministerial committee on durable solutions for Somali refugees on Friday, 24th March bringing together ministers responsible for interior, security and refugee affairs from the Horn of Africa region.
More than two million Somalis have been displaced in one of the world's most protracted humanitarian crises that have now entered its third decade.
An estimated 1.1 million people are internally displaced (IDPs) within Somalia and nearly 900,000 are refugees in Dadaab, the world's largest refugee camp in northeastern Kenya.