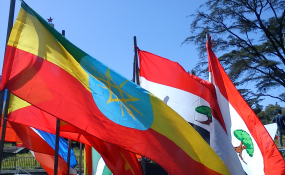 Photo: Soman/Wikipedia
By Homa Mulisa
A commendable new trend is emerging among professional Ethiopian Diaspora to contribute in knowledge sharing and technology transfer in an organized fashion featuring in multifaceted sectors, according to the Ministry of Foreign Affairs.
Of late, coordinated efforts through a number of professional organization are commenced pursuant to technology and knowledge transfer, reveals Demeke Atinafu, Diaspora Affairs Director General at the Ministry of Foreign Affairs. He further explained: "Ethiopian born academicians and professionals in health, technology and other science disciplines are being vastly engaged in knowledge and technology transfer efforts to Ethiopian post graduate students ."
Moreover, Diaspora investors are encouraged to participate directly or in collaboration with domestic investors as well as foreign investors in manufacturing sector, added Demeke. They are also encouraged to invest in the industrial parks and in information communication parks individually or in joint venture arrangements.
According to a statistics of the Addis Ababa Diaspora Coordination Office, there are 34,697 licensed Diaspora projects worth over 336 billion Birr, of which more than five thousand projects went operational-- 500 of them are in the manufacturing sector.
With regard to states over 2,700 Diaspora licensed projects worth 63 billion Birr went operational generating employment for over 271,848 citizens. "This information clearly indicates that Diaspora engagement in investment sector is overwhelmingly concentrated in the capital city, and hugely skewed towards the service sector " asserted Demeke.
Appreciating the legal frameworks laid by the government, Ethiopian Diaspora Association Chief Executive Director Abraham Sium, for his part insisted that there are also challenges hindering their efforts. According to him, the bureaucratic strait jacket in most offices, corruption, lack of sufficient and accurate investment related information are the forefront troubles to the Diaspora's participation.
In relation to GERD project, the Ethiopian Diaspora community all over the world contributed a sum of 39 million USD for the GERD until January 30,2017 through Bond purchases, said Demeke. He added, from the 2.21 million USD worth Diaspora Bond purchases over the last six months, 85 % was leveraged by the Ethiopian community in the Middle East. "Our community from Kuwait, Beirut and Dubai take the lions' share in this contribution which I believe should be duly acknowledged," said Demeke.
It is estimated that around three million Ethiopians and foreign citizens of Ethiopian origin are residing in various parts of the world.