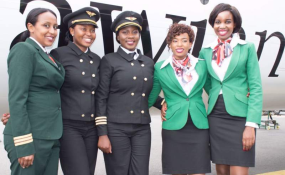 Photo: Malawian Airlines/Facebook
By Nellie Jobo
Lilongwe — Malawi Airlines recently literally took the nation's aviation history to lofty heights, when the first all-women operated flight flew from Kamuzu International Airport (KIA) in Lilongwe to the Tanzanian capital city of Dar-es-Salaam.
All flight operations from the cockpit, cabin, check-in, customer care, air traffic control, customer care and ground handling were done by women to celebrate this year International Women's Day which falls on March 8 every year.
This year's theme was 'Women in the Changing World of Work: Planet 50-50 by 2030' but Malawi localized it to 'Closing the Gender Gap in the World of Work by 2030.'
Malawi Airlines' Captain Yolanda Ndala-Kaunda, assisted by First Officer Lusekelo Mwenifumbo, were watched and admired by hundreds of onlookers at the airport and their passengers as they flew the Bombardier Q-400 from Malawi to Tanzania.
Among those keenly watching the exclusive women's historic display at the airport were First Lady Gertrude Mutharika and Vice President Saulos Chilima's wife, Mary Chilima, who were all smiles at the feat.
Also on hand, and greatly inspired at the airport before the flight got underway, were school children -predominantly girls-- from the schools of Bambino, Cherub, Crazmatic, Golden Gate and Kamuzu Academy.
In a speech during a colourful pre-flight ceremony, the First Lady saluted the Malawi Airlines' captain and the first officer for making history in the country's aviation industry and inspiring young girls to emulate them.
She urged the crew officers and members to continue showing ambition in life.
Said Mutharika: "For those who still doubt, we are here to make a valid proclamation that women empowerment is finally here to stay. And let me emphatically add that this first-ever all-women flight has confirmed that the sky is no longer the limit for women.
"Today, women have come to demolish all boundaries that kept us confined in certain narrow spaces for far too long. My message to young girls is that Malawi Airlines has demonstrated to you that there is no field which is a no-go zone for women, including aviation. So the ball is in your court." In his speech, Malawi Airlines' chief executive officer Ahadu Simachew proudly declared that the airline firmly pursues gender-equality and women-empowerment policies.
Said Simachew: "Malawi Airlines places immense respect for women and we are an ardent supporter of women empowerment and gender equality. We believe women are as capable to excel in a field that is widely dominated by men, if only given a chance.
"This is why we have, over the years, made deliberate efforts to increase diversity in the cockpit by training more women pilots, so as to inspire more girls to consider taking up careers in aviation." He pointed out that at Malawi Airlines, women comprise 32 percent of the staff body, adding that out of a total of twelve pilots, two are women.
"We are small, as an airline, but I believe we are a good example of a company that walks the talk of bridging the gender equality gap at the work place," declared Simachew.