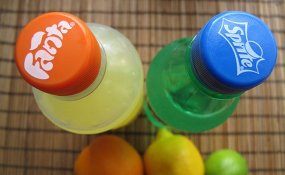 Photo: Premium Times
editorial
Until the Federal Ministry of Health waded into the matter last week and determined that popular soft drinks Fanta and Sprite are safe to drink, a row had developed in this country over the consumption of both drinks. The row arose following a court ruling by Justice Adedayo Oyebanji of the Lagos High Court, Igbosere, who ordered the National Agency for Food, Drug Administration and Control (NAFDAC) to direct the Nigeria Bottling Company Plc., manufacturers of Fanta and Sprite soft drinks, to include a warning on the bottles of the product that its content should not be taken together with Vitamin C.
The order followed a suit filed in 2008 by a businessman, Fijabi Adebo and his firm, Fijabi Adebo Holdings Ltd against NBC and NAFDAC. Fijabi had bought large quantities of different NBC products and exported them to UK but on getting there, both Fanta and Sprite failed the sample test for human consumption of the Stockport Metropolitan Borough Council's Trading Standards Department of Environment and Economy Directorate. They were found to be poisonous when mixed with ascorbic acid, i.e. Vitamin C. NBC however argued that the chemical components in its soft drinks are safe for consumption in Nigeria and that Fisabi was not entitled to recovery of damages because he engaged in "illegal exportation of products meant for local distribution."
Many Nigerians interpreted this ruling to mean that Fanta and Sprite are not fit for human consumption since UK authorities had said so. Minister of Health Prof Isaac Adewole quickly waded into the matter and set up a panel of experts to probe it, as did the Consumer Protection Council, CPC. Late last week, the investigation was concluded and Federal Ministry of Health certified both Fanta and Sprite as safe for consumers. The explanation was rather complicated. FMOH's Director of Media and Public Relations Akinola Boade said the Ministry's investigation revealed that both benzoic acid and ascorbic acid (Vitamin C) are ingredients approved by International Food Safety regulators and used in many food and beverage products around the world.
He said, "Codex Alimentarius Commission (CAC) is the organ established by Food and Agriculture Organisation of the United Nations (FAO) and World Health Organization (WHO) to set internationally recognised standards, codes of practice, guidelines relating to foods, food production and food safety. In the case of Benzoic acid, the standard set by Codex was 600mg/kg until recently reviewed to 250mg/kg and adopted in 2016 (CODEX STAN 192-1995 revised 2015 and 2016); with reference to the Codex standard and other relevant documents, Standards Organisation of Nigeria (SON) as the standard setting body in Nigeria in consultation with technical experts and relevant stakeholders elaborated the standard of benzoic acid in soft drinks to be at 250mg/kg based on the national climatic and storage conditions - this standard has been in existence since 1997 and revised in 2008 (NIS 217:2008). He also said, "The levels of benzoic acid in Fanta and Sprite presented by the claimant in the court are 188.64mg/kg, 201.06mg/kg and 161.5mg/kg respectively; these levels are in compliance with both the Codex and Nigeria Industrial Standards."
This is reassuring if FMOH is satisfied that Nigeria Bottling Company's products in Nigeria are safe for human consumption and that they meet our local regulatory specifications. A finding to the contrary would have created a major panic, given the popularity of these drinks in Nigeria. The only question remaining is how adequate these local regulatory rules are and how alert our regulatory agencies are not only in setting but also in enforcing standards in the food and beverage industry. We urge our regulatory agencies to be very pro-active in this matter, to constantly keep up with unfolding research into food product safety and evolving standards all over the world, and to adjust and update our local rules and standards accordingly. They should also enforce them strictly and efficiently.